Credit: O Setubalense
Designed to draw attention to the dangers of intolerance and extremism, Joe Berardo's BAM Museum - Bacalhôa Adega Museu, in Vila Nova de Azeitão, presents "The Lost Generation", an exhibition curated by Álvaro Silva. The exhibition shows the work of three Jewish artists who were deeply marked by Shoah, experienced at first hand and strongly marked in their artistic output: Erich Kahn (1904- 1979), Eugen Hersch (1887-1967) and Fritz Lowen (1893-1970).
The title "The Lost Generation" describes the German Jewish artists of the early 20th century who were influenced by Expressionism and whose life and artistic career were cut short by the rise of National Socialism. Forced into exile to survive, they were stripped of their identity.
The Expressionist artist Erich Kahn was born in 1904 in the German city of Stuttgart, where he studied art and then went to Paris, where he studied under the French painter and Cubist designer Fernand Léger. Following Hitler's appointment as chancellor and the introduction of antisemitic laws, Kahn was imprisoned by the Nazis in Welzheim concentration camp near Stuttgart and released only on condition that he left the country. Once in England, in 1939 he was interned in Hutchinson Camp (known as the "artists' camp" because of the large number of interned artists) on the Isle of Man. After his liberation, widely neglected by the British art establishment and psychologically disturbed, Erich Kahn produced a prolific output. His mother and sister died in the gas chambers. Erich Kahn died at the age of 75 in London, produced a body of work that is exalted, touching, very dark and distressing, including painting, engraving, drawings and sketches.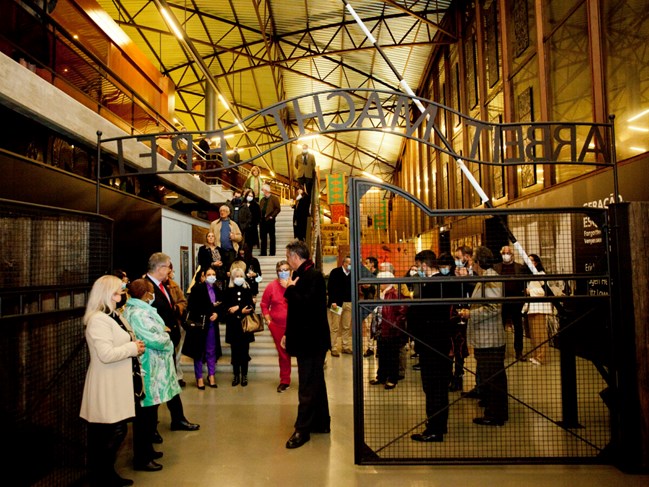 Credit: O Setubalense
Eugen Hersch, born in Berlin in 1887, underwent his classical training at the Berlin Imperial Art Academy. He was a very successful portrait painter. He produced several graphite drawings of Paul von Hindenburg, commander of the German Imperial Army and later president of Germany, who was responsible for appointing Adolf Hitler as chancellor. During World War I, Eugen was an Official War Artist, giving him public recognition and many commissions in the 1920s and 30s, during which he also participated in many successful exhibitions. The advent of Nazism precluded his working in Germany. He left for England in 1939. He was interned in Huyton Camp, Liverpool, and then in Hutchinson Camp on the Isle of Man, where he remained until late 1940. In the post war period, he built up a radiant career as an artist and as a teacher and became a member of the Royal Society of Portrait Painters, the Royal Academy and The Pastel Society. He conceived his final work at the age of seventy, an incredible twelve-painting mural, entitled 'A Requiem to Comfort the Bereaved'.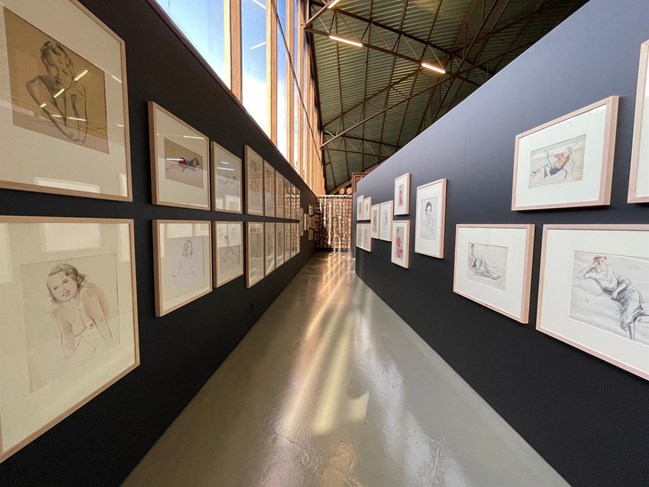 Credit: Diário de Notícias
Fritz Lowen, born in Vienna in 1893, served in the Austro-Hungarian Army in World War I. In the 1920s he was busy creating posters and illustrations  for children's books and for book covers. After living two years in Paris, he moved to Berlin in 1937 and worked for Ullstein Verlag, Germany's largest publisher. Fritz Lowen drew endless magazine covers and advertising works. The Nazi threat was huge. Ullstein suffered the same as other companies in Germany: it was Arianised. Fritz Lowen decided to emigrate to England in 1937 and to start life afresh. He signed his work as Lucien or just Lowen. He joined the British Army combatant corps - the Royal Pioneer Corps and produced propaganda for the Department of Political Information of the Foreign Office and of the Ministry of Information. In recognition for his services the United Kingdom awarded him British citizenship in 1946. He died in 1970.

Bacalhôa Adega Museu
Address: Estrada Nacional 10, 2925-901 Vila Nogueira de Azeitão
Museum ticket: 3,00 euros
Opening hours of the exhibition "The Lost Generation": open every day. Guided tours only at 10h30, 11h30, 14h30, 15h30 and 16h30. Prior booking recommended.
Curator: Álvaro Silva