Dor Shapira, Israeli Ambassador to Portugal, in the company of Ambassadress Revital Shapira, today visited one of the Achdut Centres of the Jewish community of Oporto. This Centre is dedicated to youth, mainly foreign students who have decided to pursue their long university career in this city. It is run by members of CIP/CJP, Rabbi Yoel Zekri, Netanel Amar and Esther Boudara.
The Ambassador was greeted with great joy and emotion, anticipating the feast of Purim that is fast approaching. Cantor David Hababou, who usually sings for the Jewish community on a number of festive occasions throughout the year, sang songs and there was laughter and dancing, with tasty food and many drinks being consumed.
Addressing those present, the Ambassador made a short speech in which he revealed how impressive is the level of Jewish life in Oporto and the organisation of the local Jewish community in its religious and cultural dimensions. "Young people as promising as you are very important to defend the image of Israel and the Jewish people in Portugal and around the world. The Abraham accords are a sign that peace is possible everywhere. And all this can be done quickly. We need the help of each of you every day, every moment", he said.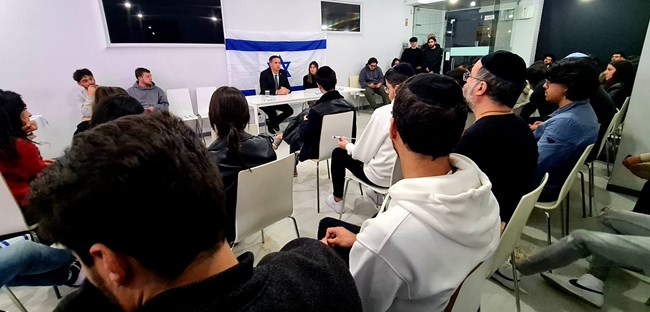 On behalf of the Jewish community of Oporto, Ilan Cohen said that it "is thrilling to welcome the Israeli Ambassador, a very friendly man. I hope he has enjoyed being here with us in the Achdut Centre. We all love Portugal. We all love Israel. We all sing Hatikvah."
In turn, Rabbi Haim Chetrit, Chabad Portugal emissary to strengthen Jewish life of the young Jews in Oporto, added, "We are very happy that the Ambassador of Eretz Israel is coming to visit us, it is a real  privilege and honour. Baruch Hashem, this Achdut Centre is a revolution in the city of Porto, the students feel that they have a home where there are regular Torah lessons, events, and a meeting place. In other words, a place that feels at home."
The event took place under strong security measures, not only because the Ambassador was present but also due to the antisemitic climate experienced in Portugal in the last months, raising fears of a terrorist attack against the Portuguese Jewish community.
Supported by philanthropic Jewish families of Portuguese origin and having its own financial resources, the Jewish Community of Oporto includes about 700 Jews originally from more than thirty countries and gathers around the same table all standards and degrees of observance of Judaism.