Part of the European Jewish Association delegation in Auschwitz-Birkenau. Credit: EJA
On November 7th and 8th, a delegation made up of many European countries – from Portugal to Ukraine – participated in an event organized by the European Jewish Association (EJA) in Krakow and Auschwitz-Birkenau.
Made up of politicians and representatives of European Jewish communities, the group was joined by Roberta Metsola, President of the European Parliament, who visited Auschwitz-Birkenau for the first time.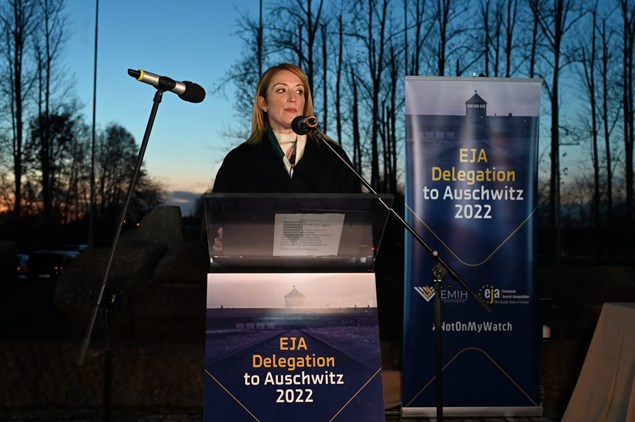 The President of the European Parliament, Roberta Metsola. Credit: EJA
"It is so hard to find words, but this is why we should talk about what happened here", she said during the lighting of candles in a ceremony in the gas chamber. On the same night, Metsola received the King David Award, a distinction offered by the EJA for its support of the Jewish community in Europe.
The conference took place on the eve of Kristallnacht's 84th birthday and spoke about measures to combat anti-Semitism on the continent. Programming included the testimony of a woman whose grandmother, a Holocaust survivor, was killed in a terrorist attack; the testimony of a former neo-Nazi; and diverse speeches about tools and actions to contain anti-Semitism.
The lighting of candles at a ceremony in Auschwitz-Birkenau. Credit: EJA
In his speech, Rabbi Menachem Margolin, president of EJA, confided: "My sons were on the bus in the centre of Brussels last week. One women looked at them with hatred, shouted "dirty Jews" and moved to another seat. Everybody has the duty of visiting Auschwitz".
Gabriel Senderowicz, president of the Jewish Community of Porto, participated in the event and told to PJN: "this event is fundamental for debating measures to curb anti-Semitism in Europe. And as important as debating is acting. For this reason, this November 9th, the date of Kristallnacht, the Jewish and Holocaust Museums in Porto will be full of young people, who have the obligation to know this chapter of history".