In March of 1941, after 6 months of hiding and running in the open, escaping the Nazis throughout Eastern Europe, my parents and I finally arrived in Lisbon, at the train station where most Jewish refugees  arrived; a safe haven for Jews.
It was not an easy journey—I was just a small child of perhaps 4 years old, my infant brother Tibor was 9 months old, and my parents Sara and Maurice were a young couple of 33 years old. My name then was Marika.
My Dad had been a rabbi in Kosice, Slovakia, had been interned in a Hungarian Nazi Slave labor camp and had miraculously escaped, rushed home, and told my mother we had to leave immediately as he had visas and papers, if we could only make our way to Portugal!
In December of 1941, leaving the rest of the Klein family behind,  our small family of 4, embarked on a run-and-escape journey throughout 7 countries, hoping to make it in time to catch a ship from Lisbon to the safety of America.
My memory is vague but strong of nights hearing my mother crying and hoping we would make it safely; but most of all I remember the trains—so many trains—off trains, on trains, running to catch trains, missing trains and even one foggy dark night losing my Dad, who was on one train and we on another!
And so it was that memory that re-lived itself just this past September 2021, when I got off the train in Lisbon at the exact same station I had arrived at in 1941, over 80 years later!
How did this occur?
In the spring of 2021, I met Dara Jeffries in Miami, and discovered she is a member of the Jewish Community of Oporto, where she grew up and spent most of her adult life as well. As it turned out, Dara is also a member of the board of the Oporto Jewish Community that founded the new Holocaust Museum. So, with the support of  the  Oporto Jewish Community, Dara invited me to Portugal, to speak at a teachers' conference  at the Holocaust Museum in Oporto and then on to Lisbon, where I would be hosted by the Lisbon Jewish Community.
Imagine, a dream come true—to retrace my steps in Portugal from 1941.
My first portion of the trip was Oporto—a lovely warm welcoming community. Dara, and her very delightful gentleman husband, Dale, escorted me from the U.S. to the door of the beautiful and well-designed new Holocaust Museum.  
The  conference was a Professional Development Day for teachers that was very efficiently organized by the very efficient Hugo Vaz,  the Curator of the museum, involving several orators, and moderated by Dara together with the Director of the Museum, Dr. Michael Rothwell.  I gave my presentation to about 50 teachers, telling them my testimony of how my family had escaped on the eve of the Holocaust and arrived in Portugal in 1941. Many of the teachers spoke with me personally after my presentation and were very interested in my story and the subject of the Holocaust, which was very heartwarming. 
On the 3rd day of my visit, Dara escorted me by train to Lisbon where, as aforementioned, I experienced the historic moment of arriving at the very same train station I had arrived at in 1941. A real déjà vu moment for me!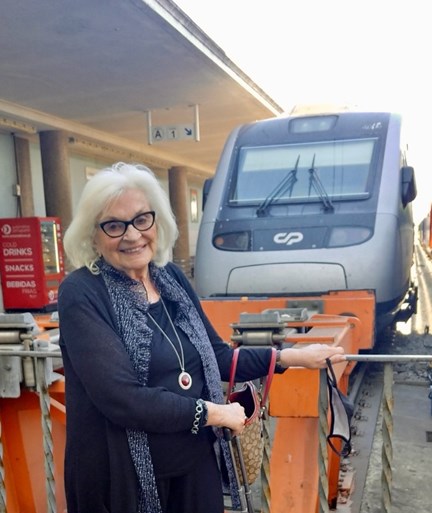 In Lisbon I was greeted by the very charming and most hospitable president of the Jewish Community of Lisbon, Dr. José Carp. The first evening I spoke to professors and students at the local university and then went on that evening to a Succoth celebration at the beautiful synagogue of Lisbon.
The 2nd evening of my visit to Lisbon I recounted my miraculous escape to Lisbon to an audience of the Jewish community at a local hotel venue.  Dr. Carp then graciously escorted me to the port where the ship that brought me and my family safely to the United States had docked, in May of 1941. My journey ended with a lovely outdoor Succoth celebration in Lisbon and a visit to the newly built Chabad Center there.
I shall never forget this memorable return visit to Portugal and give here my deepest thanks and gratitude to the Jewish Communities of Oporto and Lisbon for all their efforts on my behalf, particularly to Dara Jeffries as well as to Dr. José Carp,  who made it possible for me to finally "Return to Portugal".
Truly, a dream and wish fulfilled!
B'vracha