The 5th Gaia International Art Biennial, which opened on April 8, removed today from its collection an antisemitic cartoon produced by the cartoonist Onofre Varela. The cartoon featured Hitler with a swastika on his arm and a Star of David on his chest, and the following sentence: "Israel treats Palestinians with the same disrespect with which Hitler treated Jews".
The cartoon had originated protests by ALPI, the Israeli embassy in Portugal and the Jewish communities of Oporto and Lisbon.
The decision to remove the cartoon was taken this afternoon by the author, after having received numerous requests in this regard, both from the Municipal Chamber and the organizers of the Gaia International Art Biennial.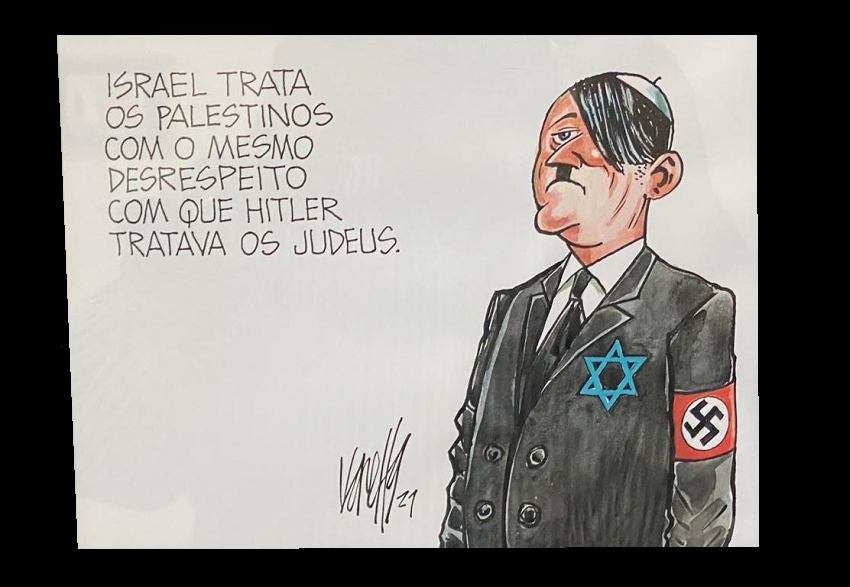 Yesterday morning, in a statement addressed to the Culture Councilor of the City Council of Gaia, ALPI (Associação Lusa Portugueses por Israel) stated that "the cartoon is inappropriate and offends the millions of victims of the Shoah. We ask that this offensive poster be removed."
Yesterday afternoon, the Jewish Community of Oporto asked the Municipality of Gaia "the immediate removal of that cartoon, which demonstrates extreme left-wing ideological fanaticism and total ignorance of what the Holocaust was and of Israel's own history".
This morning, the Jewish Community of Lisbon wrote the Municipality with the same objective and commented that the cartoon "under the cover of art, profane the memory of millions of victims who perished at the hands of a murderous, bloodthirsty and ruthless regime".
As a result of all these joint efforts by the Portuguese Jewish communities, the Israel Embassy and an association of friends of Israel, the offensive cartoon was removed.
In a note distributed today at the end of the afternoon, Câmara de Gaia announced that the cartoonist Onofre Varela had decided to remove the cartoon that was on display at the Gaia International Art Biennial. The Municipality stated that it "expresses total solidarity with the Jewish community in the region and in the country".