Prime Minister Benjamin Netanyahu attends a meeting at the Knesset in Jerusalem, March 27, 2023.
Credit: Reuters, Ronen Zvulun
In a statement made Sunday by spokeswoman Adrienne Watson, The White House's National Security Council said it was "deeply concerned" about the situation in Israel.
"We are deeply concerned by today's developments out of Israel, which further underscore the urgent need for compromise. As the President recently discussed with Prime Minister Netanyahu, democratic values have always been and must remain a hallmark of the US-Israel relationship."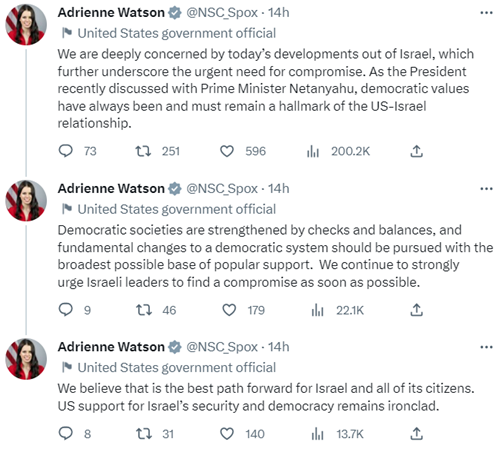 The US government's statement was made on the same day that Israeli Prime Minister Benjamin Netanyahu dismissed Defense Minister Yoav Gallant. The day before, Gallant had made a statement in a televised intervention:
"For the sake of Israel's security, for the sake of our sons and daughters, the legislative process should be stopped now, to enable the nation of Israel to celebrate Passover and Independence Day together, and to mourn together on Memorial Day and Holocaust Remembrance Day", he said. 
After Gallant's demission, the population took to the streets to protest and several sectors announced strikes. The Ben Gurion Airport joined the shutdown and is not operating in its entirety.
Netanyahu asked the population to maintain order during the protests:
"I call on all the demonstrators in Jerusalem, on the right and the left, to behave responsibly and not to act violently. We are brotherly people."
In turn, the President of Israel, Isaac Herzog, made a statement addressed to the Israeli Prime Minister:
"We saw very difficult plays tonight. I am addressing the Prime Minister, the members of the government and the companies and members of the coalition: the feelings are difficult and painful. Deep concern surrounds the entire nation. Security, the economy, society - all are threatened. The eyes of all the people of Israel are on you. The eyes of the entire Jewish people are on you. The eyes of the whole world are on you."