The vandalized World Jewish Center in Yerevan, Armenia. (photo credit: CER)
A synagogue in Yerevan, Armenia was set on fire on November 15, according to Azerbaijani Ambassador to Germany Nasimi Aghayev who shared footage of the attack.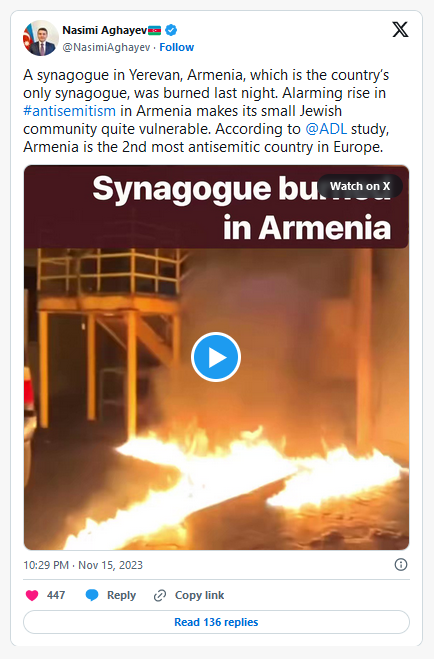 The Armenian Secret Army for the Liberation of Armenia (ASALA) claimed responsibility for attacking the synagogue, according to Azerbaijani media. The report continued that ASALA stated their plans to continue attacks against the Jewish community outside of Armenia.
The vandalized World Jewish Center in Yerevan, Armenia. (credit: CER)
Attacks on the Armenian Jewish community
A similar attack occurred in October by ASALA, which targeted the World Jewish Center in Yerevan, the Jerusalem Post reported. 
The attackers issued a statement saying: "The Jews are the enemies of the Armenian nation, complicit in Turkish crimes and the regime of [Azerbaijan President Ilhan] Aliyev. The Jewish state provides weapons to Aliyev's criminal regime, and Jews from America and Europe actively support him. Turkey, Aliyev's regime, and the Jews are the sworn enemies of the Armenian state and people."
They added: "If Jewish rabbis in the United States and Europe continue to support Aliyev's regime, we will continue to burn their synagogues in other countries. Every rabbi will be a target for us. No Israeli Jew will feel safe in these countries."
After the incident, an Azerbaijani rabbi warned Armenian Jews to "leave before it's too late", in anticipation of worsening attacks. 
Zvika Klein contributed to this report.