Rabbi Abraham Serruya at a wedding ceremony
Renowned Rabbi Abraham Serruya took his first steps as a religious leader in the Community of Lisbon between 1972 and 1974. He has lived in Argentina for 47 years, but he has never forgotten his days in Portugal.
Arrival in Portugal
Abraham Serruya arrived in Lisbon in the summer of 1972, sent by Rabbi Paul Roitman, who was concerned about the assimilation of Diaspora Jews. Serruya was a 21-year-old boy who combined his studies in Israel with the Yeshivah and a Biology course, and was looking for an opportunity to earn money and help his widowed mother. At the time, he was sent as a community instructor – a madrich – because he was not yet a rabbi.
"I can't forget when I got off the plane with the kippah on my head... there weren't many people wearing kippah on those flights. Did the Community directors who were waiting for me approach and say Serruya? And where is your father?" recalls the rabbi.
"With that childlike face I had, they didn't expect me to be the one sent from Israel to the Community", he completes.
But the determined boy's youth did not prevent him from giving himself body and soul to the Community of Lisbon.
First impressions
The rabbi says that he was impressed by the structure of the Community of Lisbon: "It was such a small Community, but they had everything, everything, everything! All the necessary community services, the Synagogue working... so beautiful, so old, so central... it worked every day! There was minian, Shabbat, parties ... ", he recalls.
In Serruya's memories are also the community center, the tzedaká, the hospital, the cemetery and kashrut: "If it hadn't been for kosher food, I wouldn't have gone. Thanks to Rabbi Assor".
People
The union between the members of the Community also impressed the future rabbi: "There were people who were more religious, less religious, rich people, poor people, people who had university degrees and other people who were merchants... but they were all together in the Synagogue, in the dinners, at community parties... it was a very beautiful union".
"There were people of high intellectual level. Great doctors, great lawyers, known all over Lisbon... and that didn't stop these people from sitting down at a table once a week to study with a 21-year-old boy, who taught them Torah".
Young people
Contact with young people was Serruya's main job during the two years he was in Lisbon. "Something that impressed me, we gathered from children to teenagers in the activities at Bnei Akiva... and how could it be that they all shared the same activity? There were small children and boys starting their teens, teenagers starting college... all together. It didn't feel like a community, it felt like a family!"
"I felt like a brother to everyone," he says fondly.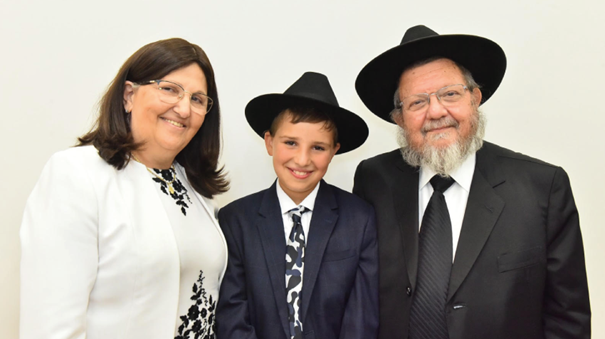 Rabbi Abraham Serruya with his wife Raquel at grandson Iosef's Bar Mitzvah.
The decision to be a rabbi
Before going to Lisbon, Serruya was studying biology in Israel, but he had doubts if he really wanted to continue in the area. It was teaching about Judaism and Torah that he discovered that this is what makes his heart really beat.
"I owe the Lisbon community my decision to become a rabbi and to continue on a spiritual path", he confides.
Portugal is still in memory...
It's been 49 years since Serruya said goodbye to Portugal. After that, he traveled to Brazil, where he is from, and Argentina, where he has lived for 47 years. "I have to be grateful to the people who took me to Lisbon and who made it possible for me to stay there... Rabbi Assor helped me a lot to maintain my spiritual level... and I even learned shechita from him, which gave me a diploma. I have not used it, but I have the knowledge ... ", he says.