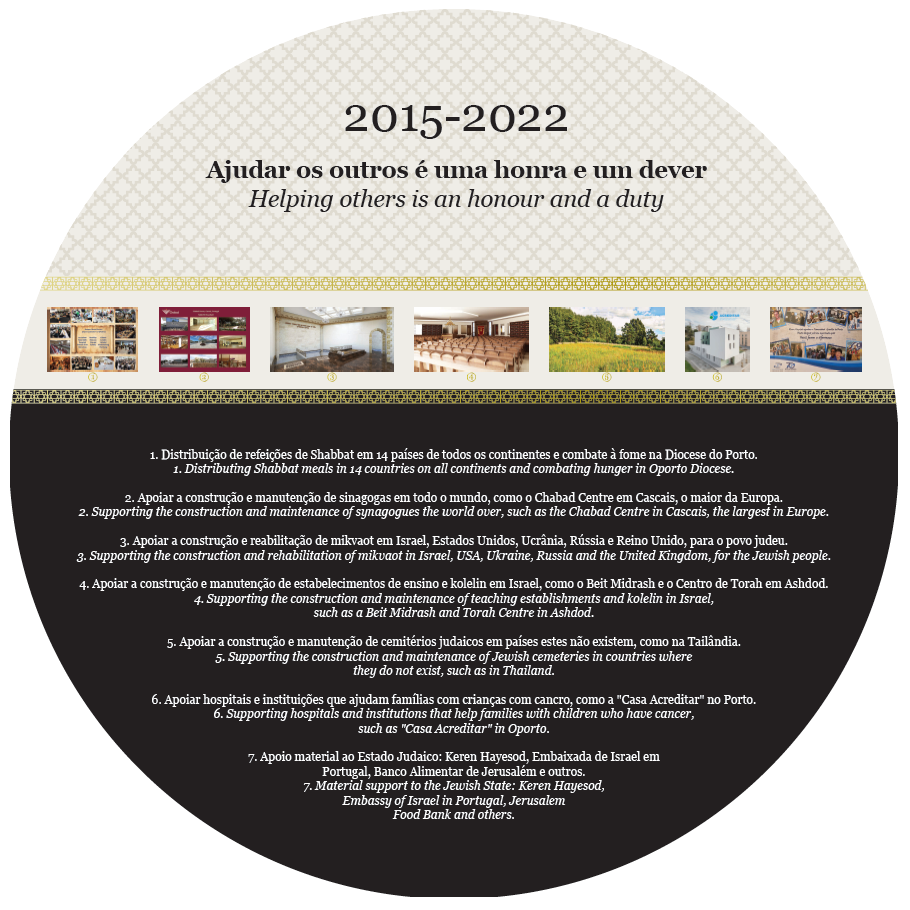 The Jewish Museum of Oporto is presenting the exhibition "Helping others is an Honor and a Duty".
The main solidarity actions carried out by the Oporto Jewish Community since 2015 are highlighted: Distributing Shabbat meals in 14 countries on all continents and combating hunger in Oporto Diocese; Supporting the construction and maintenance of synagogues the world over, such as the Chabad Centre in Cascais, the largest in Europe; Supporting the construction and rehabilitation of mikvaot in Israel, USA, Ukraine, Russia and the United Kingdom, for the Jewish people; Supporting the construction and maintenance of teaching establishments and kolelin in Israel, such as a Beit Midrash and Torah Centre in Ashdod; Supporting the construction and maintenance of Jewish cemeteries in countries where they do not exist, such as in Thailand; Supporting hospitals and institutions that help families with children who have cancer, such as "Casa Acreditar" in Oporto; and Material support to the Jewish State: Keren Hayesod, Embassy of Israel in Portugal, Jerusalem Food Bank and others.
The Jewish Community of Oporto is composed of about 1000 members from 30 nationalities. It has three synagogues, museums, restaurants, history films and practices charity in Portugal and abroad.