Regina Reisman Schuman, born in the parish of Vitória in Oporto on 12 December 1897, presented proof of her identity with a birth entry she submitted to the Portuguese consulate in the French city of Lyon. In July 1940, she was in France with Esther, Armando and Manuel, the children she had with Abicine Schuman, a chemist and industrialist by profession. Abicine had fled antisemitism in Poland, settled in Oporto in early 1920 and it was here that the couple met and got married.
Immersed in the sea of politics, Abicine was imprisoned several times by the Political Police, which caused Regina and her children to move to Paris, where some of her husband's relatives lived. The Second World War and the advance of the Nazis forced them to move to the South of France. Regina hid her two younger children, Esther and Manuel, in different houses, leaving them in the hands of reliable people. Armando stayed on in occupied Paris. He wanted to fight against France's submission to Nazi power and disillusioned, like so many others, with Pétain and the collaborationist policy, in 1941 he joined the French Resistance.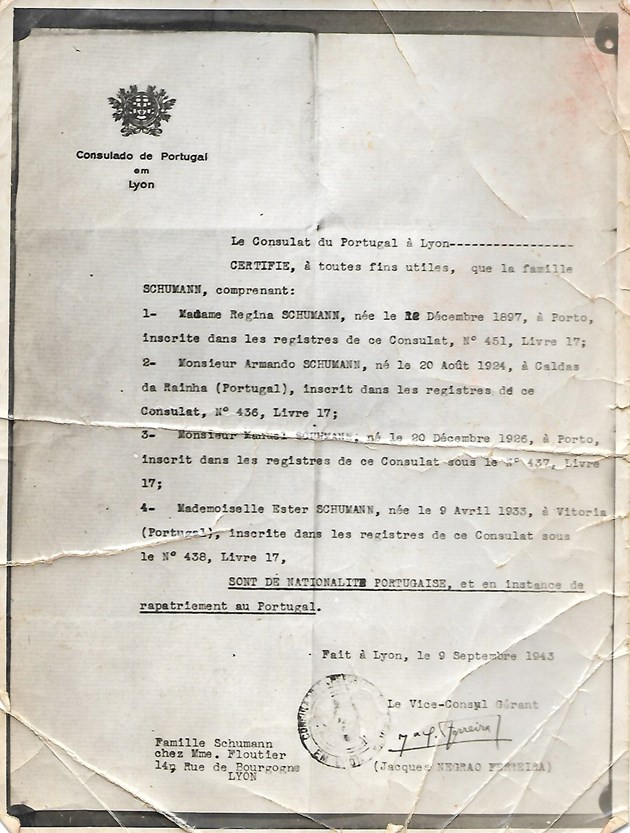 In June 1943, Abicine was a prisoner at Tarrafal concentration camp, on the Cape Verde Island of Santiago. He submitted a request to the Ministry of Foreign Affairs to save his wife and children from being deported, as they were believed to be prisoners in a concentration camp in the Lyon region. The reply was ruthless: due to Abicine's political career it was believed that the documents were false. They were not. The name Regina Schuman is on the list dated 10 February 1944 of the Portuguese asking to be repatriated. Four months later, on 23 July 1944, the Portuguese consulate in Toulouse placed Regina and her three children on the list of Portuguese Jews requesting repatriation. In the repatriation that departed from Marseille, Armando, Manuel and Ester Schuman entered Portugal through the Beira border, on 5 August, on a train that altogether carried a group of 47 Portuguese Jews.
Abicine returned from Tarrafal on 1 February 1946, was immediately sent to Aljube prison and from there to Caxias prison. His weakened state meant that he had to spend about ten days in the infirmary. Expelled from Portugal on 4 December 1946, he boarded the packet ship Lourenço Marques to New York, but only in transit. In early 1947, he was an official resident of the city of Trujillo, now Santo Domingo, Dominican Republic, a country that did not hinder the entry of refugees.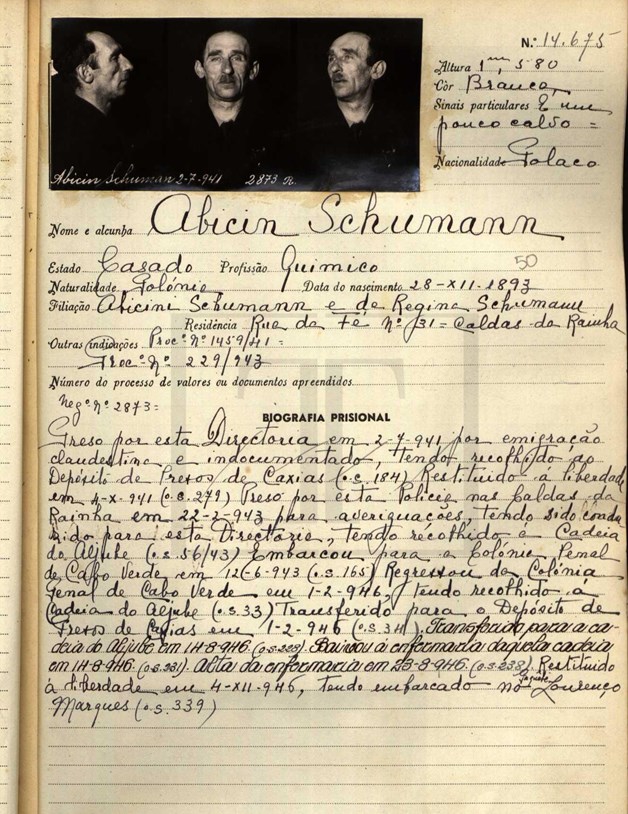 The American Jewish Joint Committee has documents indicating that Regina Schuman and her children emigrated to Israel in May 1945, on the first convoy to reach Israel after Shoah, with the help of this Jewish organization. Curiously, no nationality is mentioned on their admission papers. Having reached the port of Haifa, Regina, who was seriously ill, was taken directly to hospital where she died on 7 August. Abicine emigrated to Israel. Manuel did not recover from the traumas of war. Armando became interested in woodwork and his artistic output created dark drawings and paintings. Esther grew up at the  Kibbutz Shefayim, near Telaviv, took a nursing course, and married Neumann, an eminent North American doctor with whom she had two sons, Avner and Avital. We were fortunate to be able to talk with Avner. He says that his mother never shared much information about her family history, except near the end, when she began providing whispered details: she was born in Oporto, lived in Caldas da Rainha, had been hidden somewhere in the South of France, was at the Gurs camp and the fact that she had Portuguese papers saved her from what would have been the very likely deportation to extermination.