Credit: The Israel Forever Foundation
The night of November 29th marks the date on which the United Nations General Assembly adopted a plan to divide the British Mandate into two states - one Jewish and one Palestinian. Thirty-three countries voted in favor of the UN decision, while 13 voted against and 10 abstained. Thus was born the State of Israel as a national home for the Jewish people.
According to the Israel Ministry of Foreign Affairs, the borders of the proposed state were far from what the Jewish side had hoped for and left the Jewish population without access to key areas of national historic and religious significance. Nevertheless, the Jewish leadership responded positively to the international proposal, cognizant of the historic opportunity: this was the first time after 2000 years that the Jewish people had the chance to restore its sovereignty in its historical homeland. The Jewish leadership was also hopeful that the UN plan would help achieve a peaceful solution with the Arab world. 
This is how Amos Oz, in the book A Tale of Love and Darkness, describes what happened in this night: "… my father said to me as we wandered there, on the night of November 29, 1947, me riding on his shoulders among rings of dancers and merrymakers, not as though he was asking me but as though he knew and was hammering in what he knew with nails: Just you look, my boy, take a very good look, son, take it all in, because you won't forget this night to your dying day and you'll tell your children, your grandchildren, and your great-grandchildren about this night when we're long gone."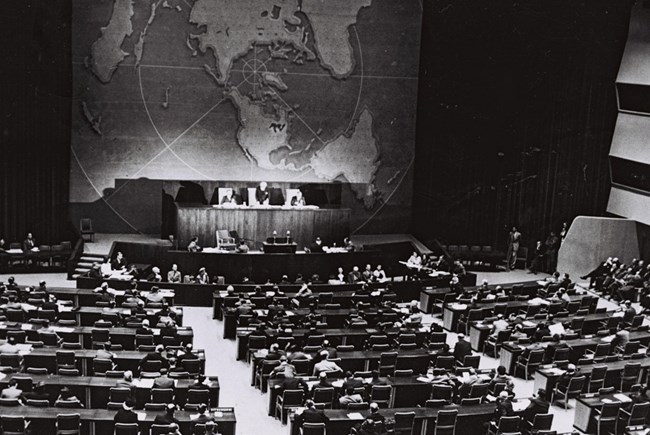 Credit: The Government Press Office, Jerusalem
Summary of the UN General Assembly vote on Resolution 181, 29 November 1947
In favour: Australia, Belgium, Bolivia, Brazil, Byelorussian S.S.R., Canada, Costa Rica, Czechoslovakia, Denmark, Dominican Republic, Ecuador, France, Guatemala, Haiti, Iceland, Liberia, Luxemburg, Netherlands, New Zealand, Nicaragua, Norway, Panama, Paraguay, Peru, Philippines, Poland, Sweden, Ukrainian S.S.R., Union of South Africa, U.S.A., U.S.S.R., Uruguay, Venezuela.
Against: Afghanistan, Cuba, Egypt, Greece, India, Iran, Iraq, Lebanon, Pakistan, Saudi Arabia, Syria, Turkey, Yemen.
Abstained: Argentina, Chile, China, Colombia, El Salvador, Ethiopia, Honduras, Mexico, United Kingdom, Yugoslavia.