In England, King Charles III visited a community center. Credit: Ian Vogler/WPA Pool/Shutterstock
World leaders sent greetings for the holiday of Hanukkah, which began last Sunday. In England, King Charles III visited a community center on the eve of Hanukkah to celebrate with Holocaust survivors. He received a menorah as a gift. The United States celebrated Hanukkah at an event at the White House, where US President Joe Biden made a speech condemning antisemitism. 
"This year we thought it was important to celebrate Hanukkah with another message of significance," Biden said. "Permanence. Permanence."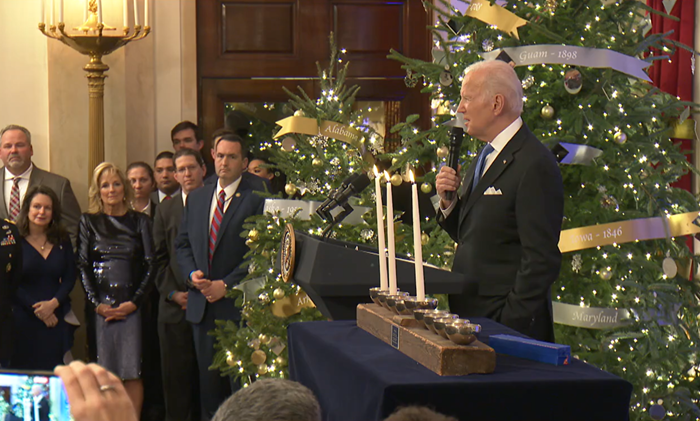 The US President Joe Biden made a speech condemning antisemitism. Credit: Joe Biden Twitter
In Ukraine, a large Menorah was lit in Kiev, where dozens of people gathered to watch Rabbi Mayer Stambler's ceremony. There were the mayor of Kiev and the ambassadors of Israel, the United States, Poland, France, Canada and Japan. The president of Ukraine, Volodymyr Zelensky, who is Jewish, released a video where he made a parallel between the story of Hanukkah and the resistance of his country: "The few defeated the many, light defeated darkness," he declares. "Thus it will also be this time."
In Russia, the commemoration took place at the Kremlin in Moscow, where the Chief Rabbi of Russia, Berel Lazar, lit the first Menorah candle in front of hundreds of participants.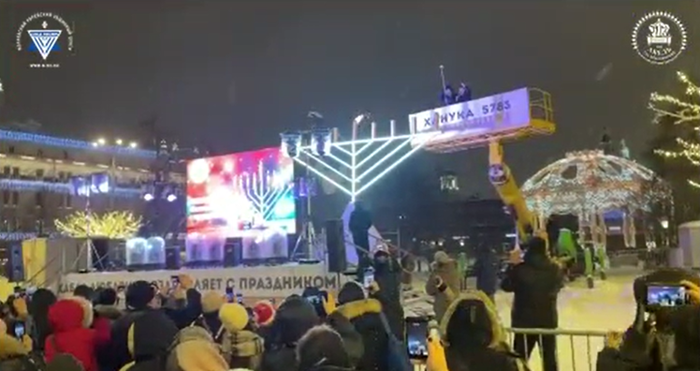 Chief Rabbi of Russia Berel Lazar lit the first Hanukkah candle. Credit: ChabadInfo.com
The date was also celebrated in Germany, where the menorah from a famous photograph from 1931 was lit. As published by JNS, the image was recorded by Rachel Posner, wife of Rabbi Akiva Posner, who photographed the menorah on the windowsill, with a flag with swastika in the background. The family went to Palestine in 1933 and took the menorah with them. The couple's grandchildren attended the ceremony in Berlin, which was attended by the President of Germany, Frank-Walter Steinmeier.

The grandson of the Posner couple cried at the ceremony. Credit: Bernd von Jutrczenka, dpa, picture alliance
According to The Times of Israel, the Turkey President Recep Tayyip Erdogan declared that his country is an example against anti-Semitism and Islamophobia. A few months ago, Israel and Turkey resumed diplomatic relations.
"On the occasion of Hanukkah, I wholeheartedly congratulate our citizens of Jewish faith," said Erdogan. "While antisemitism, Islamophobia and xenophobia threaten social peace today in many countries as well as global peace, the unity and solidarity, all our citizens display in our country with mutual respect, love and understanding without any discrimination, sets an exceptional example to the entire world," he wrote.
Indian Prime Minister Narendra Modi wrote his message in Hebrew on Twitter: "Happy Hanukkah to my friend Netanyahu, to friends in Israel, and those celebrating this festival of lights around the world". The UAE Embassy in Israel also made a statement on Twitter, offering warm regards to the people of Israel.