The Ashkenazi synagogue in Istanbul, Turkey on Feb. 26, 2019. Credit: Ilker Murat Gurer/Shutterstock.
Following initial media reports that Jews were missing in Turkey, Mendy Chitrik, a Chabad rabbi and chairman of the Alliance of Rabbis in Islamic States, told the Jewish Chronicle that all Turkey's Jewish community members appear to be safe.
The London paper reported that the rabbi, who leads Turkey's Ashkenazi community, was not sure whether any Turkish synagogues were damaged substantially and is traveling to southern Turkey.
Prior media reports, with quotes attributed to one of Israel's chief rabbis, indicated that some Jews–perhaps more than a dozen–who live near the Syrian border were missing. It was not immediately clear from the London paper's reporting if those individuals on the border had been lost and were now accounted for, were still lost, or whether the first reports had been inaccurate.
Chitrik had posted earlier in the day on Twitter: "Please keep on praying for our friends and colleagues whom we are unable to contact in Adıyaman, Malatya, Antakya, Gaziantep and Kilis."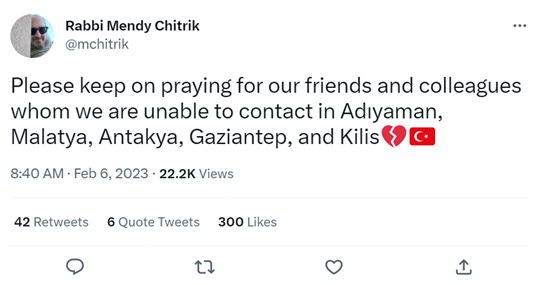 Source: JNS