Gilad Erdan, the Israel's ambassador to the UN. Credit: Israel Mission to the UN
Last Wednesday, the United Nations General Assembly voted to adopt a resolution to commemorate the "Nakba", which means "catastrophe" in Arabic. The term refers to the creation of Israel and the displacement of about 700,000 Palestinians during the War of Independence, initiated by Arab countries to prevent the establishment of Israel.
According to the Jewish News Syndicate, the vote came a day after Israel's Ambassador to the United Nations Gilad Erdan inaugurated an exhibit highlighting the expulsion of Jews from Middle East countries, calling the story of these Jewish refugees the "real Nakba".
"Those who really suffered from 'Nakba' following the decision were Jews—almost a million were expelled from Arab countries and Iran. Since the vote [on Nov. 29, 1947,] which the Arabs rejected, the United Nations has been telling a completely false story about the 'disaster' the Palestinians brought upon themselves", Gilad Erdan said.
The UN resolution intends to hold a high-level event in the Hall of the General Assembly in May 2023 to commemorate the seventy-fifth anniversary of the Nakba. The resolution was approved by 90 votes in favor, 30 against and 47 abstentions.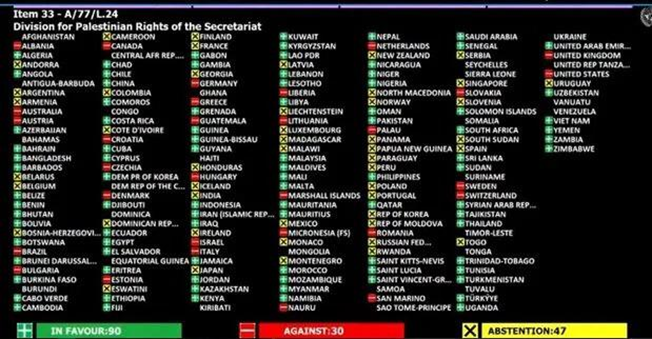 Results of the UN vote to officially recognize Nakba Day. Credit: Israel Mission to the UN
This time Portugal did not vote against Israel, abstaining from the decision. One day after the vote, the President of the Assembly of the Republic, Augusto Santos Silva, received the Israeli ambassador to Portugal in a friendly meeting.