On International Holocaust Remembrance Day, the last survivor of the Women's Orchestra of Auschwitz, Anita Lasker-Wallfisch, is categorical: no memorial could come close to what actually happened. Today, aged 95, she stresses that "The antisemitism that led to the genocide machine is a two thousand-year old virus that apparently is incurable".
For four decades she did not speak of the past. Even her children were kept in the dark regarding her suffering. The cello, which she had learned to play in Berlin, saved her from the gas chamber and the crematorium. She played for the living dead and their executioners.
Why the silence? She could not find the words to tell her children that she had been number 69388 and that she strummed metres away from the Nazi killing. Not even her husband, the pianist Peter Wallfisch, was allowed to know about her pain, a pain with many losses.
Anita Lasker-Wallfisch, living in London since 1946, with a brilliant career as a cellist, had engaged in other terrestrial skies: she restarted her life from scratch in April 1945. Her daughter, Maya Jacobs-Wallfisch, a psychotherapist specialising in transgenerational trauma, always knew that her mother "had a dark secret". Although she had never told her.
One day, Maya found out: "Rummaging in a locked drawer I found shocking photographs of Bergen-Belsen", the Nazi camp to which her mother and aunt had been transferred in the winter of 1944.
In 1996, Anita Wallfisch published the book "Inherit the Truth 1939-1945: The Documented Experiences of a Survivor of Auschwitz and Belsen". She is alive for a reason: "The fact that there was music obviously helped me survive". She was a member of the women's orchestra in the extermination camp in occupied Poland, which had been founded in April 1943 by SS-Oberaufseherin Maria Mandel, the Austrian commandant known as "The Beast" of Auschwitz.
The orchestra played at the gates of Auschwitz when the slaves walked out in the morning for their murderous routine, it played at night when they returned, if they returned. It was also there that on Sundays they put on concerts for the camp guards. On other days, for SS female guards who slobbered to the sound of music as they engaged in evil.
While mass deportations were taking place in Eastern Europe, leading to the arrival of unlimited numbers of Jews at Auschwitz, the orchestra was forced to play to soothe the spirits of the condemned, as it provided the illusion of salvation and let the Nazis kill them more speedily.
The idea of the orchestra was not designed to save lives. The Germans wanted a propaganda tool for visitors. And they got it. Music in a place of death. Although Nazi rule stipulated that Jewesses would not be admitted, there were not enough prisoners who could play musical instruments and this rule was changed.
On the order of the SS, the orchestra initially was conducted by the Polish music teacher and political prisoner Zofia Czajkowska, related to Tchaikovsky, who was replaced by another prisoner, the Jewish violinist Alma Rosé, a niece of composer Gustav Mahler.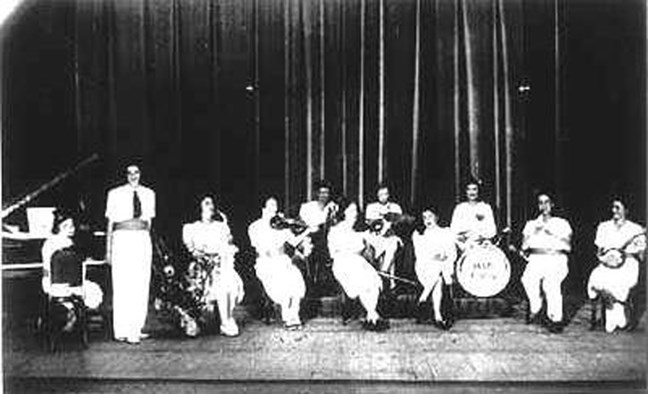 The repertoire began with German marching songs as well as Polish folk and military songs that Zofia Czaykowska transcribed from memory. It soon expanded. They played Beethoven, Brahms, Dvorak, and Mendelssohn whose Jewish origins meant that his name was never mentioned, as well as Rossini, Puccini, Verdi and even Chopin. After Alma Rose died of poisoning, she was replaced by Sonia Winogradow, a Ukrainian pianist.
Initially, the members of the orchestra were placed in barrack 10, occupied by German prisoners, and then in Block 12, close to crematorium 1 and with an unrestricted view of the ramp of death. Cellist Anita Lasker-Wallfisch saw people, many people, columns of people walking towards the gas chambers where they went up in smoke. She saw living people being placed in the cremation ovens.
Between April and July 1944, she witnessed "Operation Hungary", the annihilation of 475 thousand Hungarian Jews – half the Jewish population of Hungary. The revisionist theories that deny the Holocaust, deny what her eyes recorded, continue. The famous Israeli historian Yehuda Bauer is right: "People rarely learn from history".
The daughter of an eminent lawyer, Alfons Salomo Lasker, and of Edith Lasker, a bright violinist, Anita was born in July 1926 in Breslau, then Germany, now in Poland and renamed Wroclaw. She was the youngest of three, her sisters being Marianne and Renata. When Adolf Hitler was appointed chancellor in early 1933, they soon suffered discrimination.
The outbreak of the Second World War led to despair. Her father had fought in the First World War and been awarded the Iron Cross and hoped they would not suffer. He was wrong. Sister Marianne fled to England in late 1939. No one else had that opportunity.
In April 1942, Anita's parents were taken. It is believed they were murdered in Izbica, not far from the Polish city of Lublin, where it was common practice to force the victims to dig their own grave, shoot them and pile the bodies in the ditches.
Anita  and her sister Renata were taken to an orphanage and soon afterwards they were put to work in a paper factory. It was there that they came across French prisoners of war who forged documents with the intention of escaping to France.
In June 1943, the sisters Anita and Renata tried to flee with false passports, but the Gestapo caught them at Breslau railway station. They were condemned to prison and after five months both were deported to Auschwitz. The fact that they had been classified as criminals and not Jews was lucky for they did not have to go through the macabre selection process or be sent directly to the gas chamber.
When they arrived, a prisoner who was processing the enrolment asked her what she had done before the war. She replied, "I play the cello", but thought: "What a stupid thing to say". But, no, the instrument she had learned with Leo Rostal in Berlin stopped her from turning to ashes. The orchestra, now conducted by Alma Rosé, had a great variety of musical instruments, ranging from mandolins to accordions, but no cello. This was manna from Heaven for her and Renata, because it made it easier to get food.
On 11 November 1944, as the Soviet troops approached, Anita and her sister were among the three thousand prisoners sent to Bergen-Belsen camp in Germany on cattle trains. If Auschwitz was a extermination camp of Machiavellian organisation and diabolical presentation,  at Bergen Belsen death occurred in a variety of ways: there was no food, and typhus and tuberculosis were rife in the camp.
British forces entered on Sunday 15 April 1945 to liberate the skeletons that were still breathing. Anita Wallfisch rebuilt her life in London, Renata in Paris, their sister who had escaped the slaughter died in childbirth.
In July 1989, Anita Wallfisch returned to Bergen Belsen to attend a concert by the English Chamber Orchestra of which she was a co-founder. She broke the promise she had made that she would never set foot in Germany again. She went to her hometown. And to Auschwitz-Birkenau.
Since then, Lasker-Wallfisch has denounced discrimination and the resurgence of extremism. In January 2018, in her speech before the Parliament of the Federal Republic of Germany she said that hatred of the Jews and denial of the Holocaust were making a dangerous comeback.