Between April 30 and  May 5, 2023, the Conference of the International Women's division of Keren Hayesod took place in Israel, with delegations from all over the world attending including those from Hungary, Argentina, Uruguay, Mexico, Brazil, Australia, England, France, Netherlands, Italy, Guatemala, Chile, Portugal and other countries.
The First Lady of the country, Mrs. Herzog, received the excellence award from Keren Hayesod at an award ceremony for her new motivational and inspirational work to continue her crucial strengthening in supporting Keren Hayesod and the Israeli people.
In the northern area, the Keren Hayesod delegation had the experience to meet Tirael Cohen who is the founder and CEO of Kedma, an Israeli non-profit organization that empowers communities on Israel's borders. As the daughter of a French Jewish family who made aliyah in the 1980s, Tirael continues her family's connection to Zionist ideals by deepening and strengthening the bond between Israelis and the most strategic places along the borders of Israel. She was nominated as "30 under 30" (30 under 30) by Forbes and "Hero of the Year" by Keshet 12.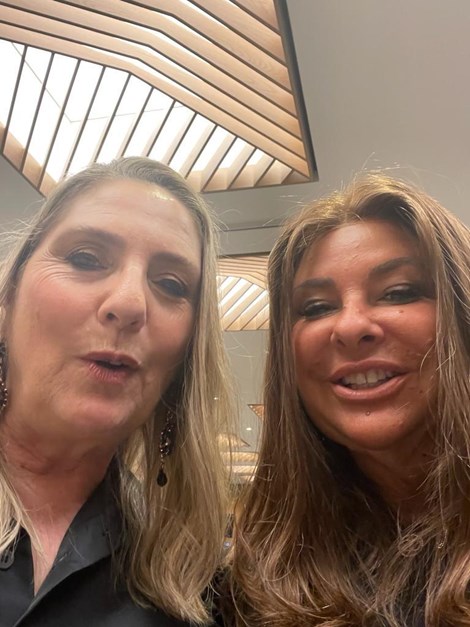 Mrs. Herzog and Dr. Debora Elijah
Dr. Debora Elijah from Portugal says, "We also visited the Heartbeat Project, a religious school in the north with at-risk children, who suffer from a lack of self-regulation, delay in social-emotional development and social communication skills. The parents of these children learn with mentors how to deal with trauma and their depression".
Keren Hayesod – United Israel Appeal is the preeminent worldwide fundraising organization for Israel, which was established in London in 1920, to serve as the fundraising arm of the Jewish People and the Zionist Movement. Keren Hayesod is recognized today as a National Institution (Public Benefit Company), granting it a unique position in the connection between Israel and world Jewry and friends of Israel.