Senate Majority Leader Chuck Schumer (left) and Israeli President Herzog at IDF headquarters in Tel Aviv, Oct. 15, 2023. Photo by Haim Zach/GPO.
Israeli President Isaac Herzog met Sunday with a bipartisan delegation of United States senators led by Senate Majority Leader Chuck Schumer (D-N.Y.), in the Jewish state on a solidarity trip following last weekend's Hamas onslaught.
"We are at battle, and in battle we know who are friends are," Herzog told the five lawmakers in remarks at the start of the meeting held at Israel Defense Forces headquarters in Tel Aviv.
He thanked the U.S. administration led by President Joe Biden and the American people for their unflinching support in the wake of the worst one-day assault against the Jewish people since the Holocaust. 
"The facts speak for the merit of the battle we are in," Herzog said.
Israel will act only in accordance with international law, something Biden has stressed, which is why things are "taking their time," the Israeli leader said.
"We will fight and we will overcome," Herzog said. "We must change the equation and we will fight until we bring this change."
Schumer said that "Israel has friends and above all it is the United States of America," adding that Americans stand "shoulder to shoulder" with Israel.
"We will provide everything Israel needs in this hour of need," he pledged, noting the bipartisan support for the Jewish state both on Capitol Hill and in the public. "We have many divisions in the U.S. but on helping Israel we are united.
"Words are not available for the horror and viciousness of this attack," Schumer said. "Israel must eliminate the threat of Hamas."
At least 1,300 Israelis were killed in last weekend's attack and more than 3,500 injured in the most deadly assault in the last half century.
The delegation included Sens. Mitt Romney (R-Utah), Bill Cassidy (R-La.), Mark Kelly (D-Ariz.) and Jacky Rosen (D-Nev.).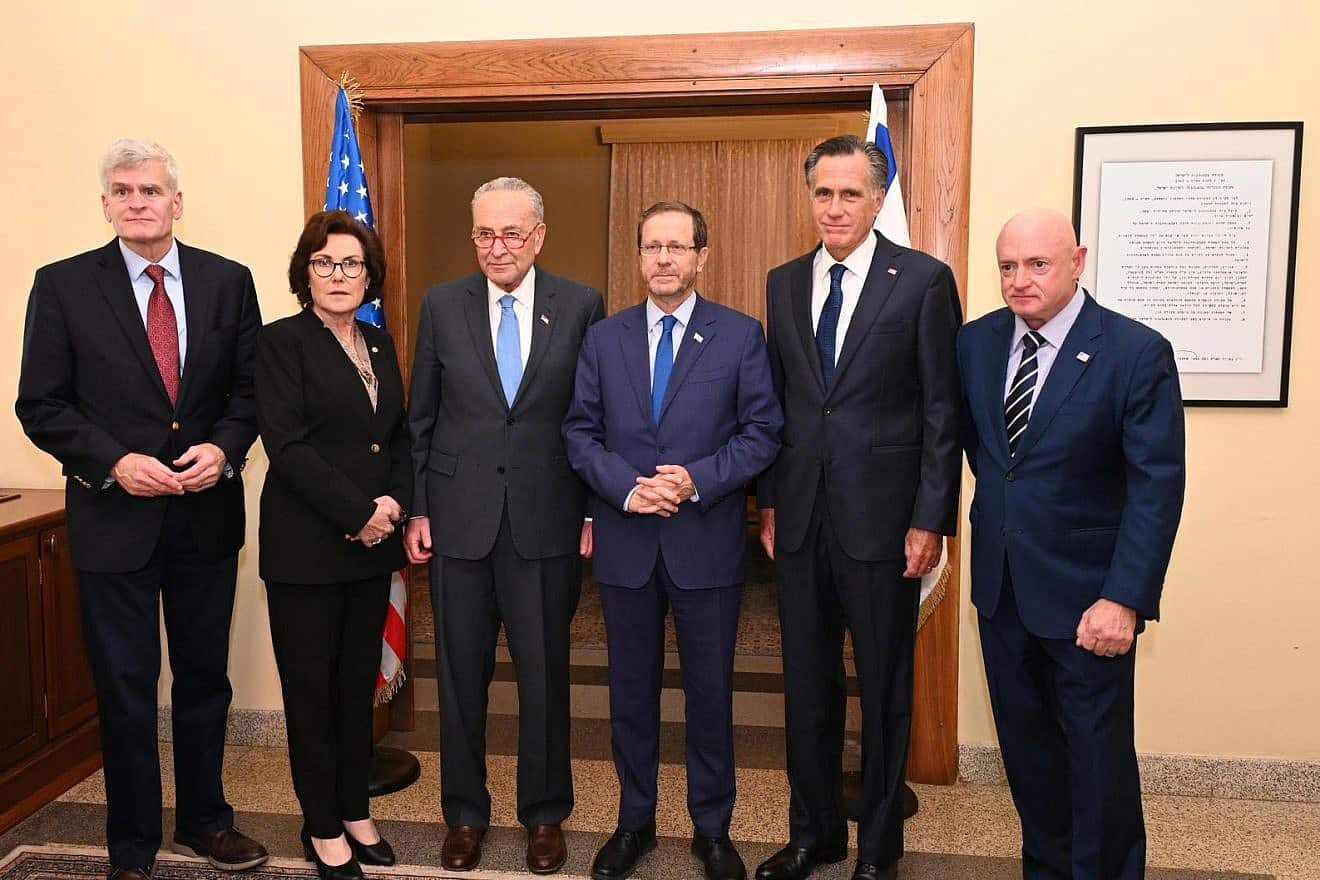 At the Kirya military headquarters in Tel Aviv, from left, are Sens. Bill Cassidy (R-La.) and Jacky Rosen (D-Nev.), Israeli President Isaac Herzog, and Sens. Mitt Romney (R-Utah) and Mark Kelly (D-Ariz.), Oct. 15, 2023. Haim Zach/GPO.
The delegation is scheduled to meet with the leaders of the new unity government, including Prime Minister Benjamin Netanyahu and Minister-without-Portfolio Benny Gantz, Schumer's office said.
Defense Minister Yoav Gallant told the lawmakers in a briefing, "We must maintain a critical combination that includes Israel's military power and our determination to destroy the enemy, together with ongoing U.S. support and partnership."
Schumer—the highest-ranking elected U.S. Jewish official—recently returned from a trip to China, where he said he "pointedly" asked President Xi Jinping and Foreign Minister Wang Yi to "strengthen" their statement condemning Hamas.
He also discussed the importance of supporting Israel with South Korean President Yoon Suk Yeol, he wrote.
Of pro-Hamas rallies in New York, Schumer wrote on Oct. 8: "I can't think of anything more ill-timed and cold-hearted than today's demonstration in Times Square. We've seen unprecedented viciousness coming from Hamas aimed at innocent families and children. Everyone—no matter your views—should condemn this brutal act [the Hamas terrorist assault]"
The congressional trip comes on the heels of visits to Israel by the U.S. secretaries of state and defense.
"As you know, I was the guy that initially put the ISIS campaign together," Secretary of Defense Lloyd Austin said. "And I know a lot about ISIS, and this is worse than what I saw with ISIS."
Source: JNS