By Joshua Marks
United Nations Secretary-General António Guterres on Wednesday attempted to walk back remarks made a day earlier that appeared to justify Hamas's Oct. 7 murder rampage in the western Negev.
"The grievances of the Palestinian people cannot justify the horrific attacks by Hamas. Those horrendous attacks cannot justify the collective punishment of the Palestinian people," he tweeted on Wednesday.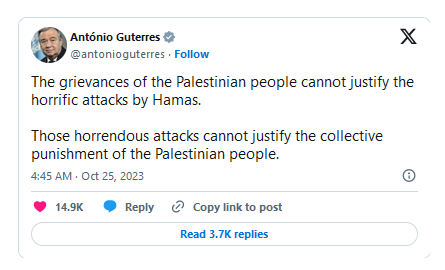 Guterres told the U.N. Security Council during a meeting on Tuesday addressing the Israel-Hamas war that "it is important to also recognize the attacks by Hamas did not happen in a vacuum," adding that "the Palestinian people have been subjected to 56 years of suffocating occupation."
Hamas terrorists murdered at least 1,400 Israelis and wounded more than 5,100 in a massive offensive launched from Gaza on Oct. 7, which included the firing of thousands of rockets at Israel and the infiltration of the Jewish state by terrorist forces.
Israel's ambassador to the U.N. Gilad Erdan said on Wednesday that U.N. officials would be denied entry visas to the Jewish state after Guterres' remarks.
"We will refuse visas to the representatives of the United Nations, we have already refused the Under-Secretary-General for Humanitarian Affairs Martin Griffiths—it's time to teach them a lesson," Erdan told Army Radio.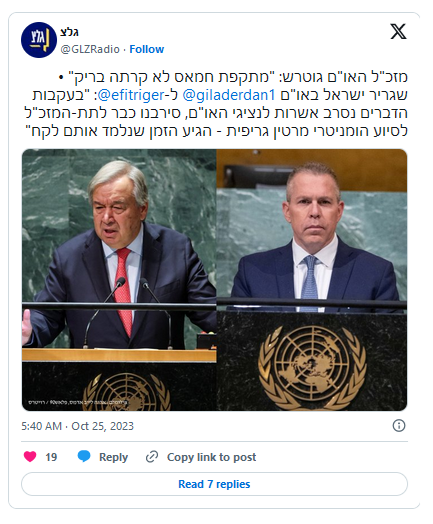 Griffiths had planned to visit the region.
Israel's Channel 12 reported on Tuesday night that Erdan will recommend additional retaliatory measures to be taken by Jerusalem, including the deportation of U.N. officials in the country.
Israel's Foreign Minister Eli Cohen blasted Guterres' remarks during an address to the U.N. Security Council on Tuesday.
"Mr. Secretary-General, in what world do you live?" said Cohen. "Definitely, this is not our world."
Cohen also canceled a private meeting with Guterres, he subsequently announced on X. "I will not meet the U.N. secretary-general. After Oct. 7, there is no place for a balanced approach. Hamas must be erased from the world," he wrote.
Israel's Special Envoy for Innovation and Deputy Mayor of Jerusalem Fleur Hassan-Nahoum addressed Guterres in an X post, saying that the U.N. chief was correct that the attacks had not occurred in a vacuum.
"They occurred in the context of decades of educational indoctrination of Jew hatred funded by the organization he heads. #Hamas_is_ISIS," she wrote.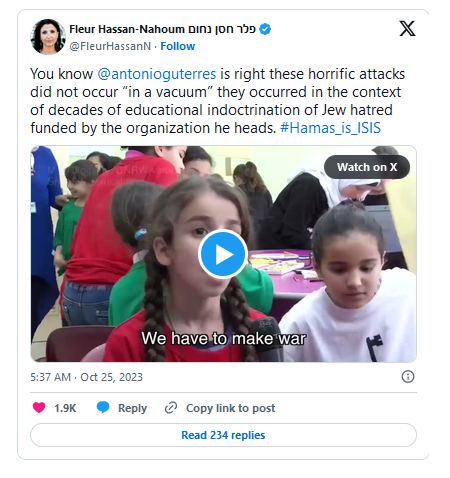 Source: JNS