Jewish worshippers cover themselves with prayer shawls during the Passover priestly blessing near the Western Wall in the Old City of Jerusalem on April 9, 2023. Credit: Noam Revkin Fenton/Flash90.
Thousands of Jewish worshippers packed the Western Wall Plaza in Jerusalem on Sunday for the Passover priestly blessing, amid a dispute between Israel and Jordan over the security situation on the Temple Mount.
The annual event occurred without incident, despite elevated tensions over the Mount in recent days. On Saturday night, hundreds of individuals barricaded themselves inside Al-Aqsa mosque, preventing Muslims from praying and attempting to provoke a response from Israeli security services. However, police did not enter the building to clear out the extremists as they had on previous occasions.
Instead, Israel's Foreign Ministry called on Amman, through the Waqf Islamic trust tasked with safeguarding Muslim sites on the Temple Mount, to take action against the extremists.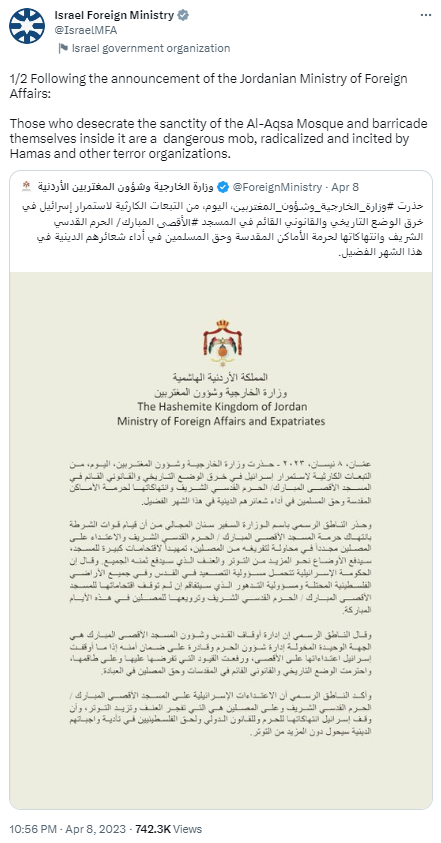 The tweet was in response to an earlier Jordanian Foreign Ministry announcement accusing Israel of violating the status quo on the Temple Mount and warning of "catastrophic consequences" if Israel continued its "violations." The statement said that Israel bore responsibility for any escalation.
Amman denied the request, The Jewish Press reported on Sunday.
The official spokesman for the Jordanian Foreign Ministry, Sinan Al-Majali, said that the entire 37 acres of the Temple Mount were "a pure place of worship for Muslims," the Petra News Agency reported.
The official spokesman for Palestinian Authority head Mahmoud Abbas, Nabil Abu Rudeineh, was quoted by Petra as saying that "Israeli provocations will turn the [Temple Mount] courtyards into battlefields."
The Israel Police reported no incidents during the priestly blessing that draws thousands of Jews to the Western Wall twice a year on Sukkot and Passover.
Source: JNS