A note published by the Ministry of Foreign Affairs on the Portal das Comunidades Portuguesas advised against non-essential travel to "Israel and the Occupied Palestinian Territories" between March 30 and April 14. The allegation is that the political demonstrations that took place at the end of March could lead to situations of violence or damage to physical or material integrity.

The notice was withdrawn yesterday after protests from the Jewish community. See the full text:

"ENTRY OF TRAVELERS INTO ISRAEL

Following several consecutive weeks of public demonstrations, the safety and prudence recommendations are reiterated in view of the possibility that new protest demonstrations could trigger public disorder and situations of violence, or damage to physical integrity and/or property. In this sense, non-essential trips to Israel are advised against during this period."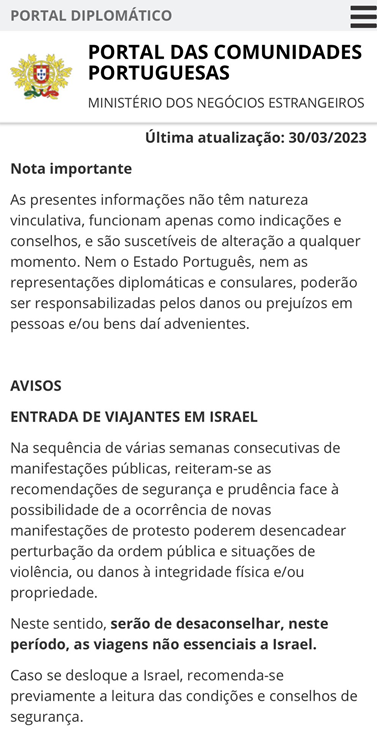 Prof. Debora Elijah, Board member of the Jewish Community of Oporto and President of Keren Hayesod Portugal stated: "Israel is always connoted as an occupying and aggressor state, just as the traditional Jew is always connoted with money and power. This far-left mentality is deplorable and has already caused irreparable damage to Portugal."

In a statement on Twitter, Madalena Barata, a member of the Jewish Community of Lisbon and Vice-President of ALPI, said: "The zeal of the Ministry of Foreign Affairs of Portugal is incredible. Shouldn't you travel to Israel or the Occupied Palestinian Territories? This Occupied Territories thing is already an unacceptable value judgment! I returned from Israel a few days ago and even went to see one of the demonstrations for my information. And it was peaceful like all the others! I have not seen any similar concern from the Ministry of Foreign Affairs with trips to Paris, where the demonstrations are violent. Portugal, where are you going??"