Sunday, September 10, 2023
XXIV European Day of Jewish Culture
In 101 locations and 16 regions in Italy
Lead City: Florence
Theme: Beauty
Web: www.ucei.it/giornatadellacultura
On Sunday, September 10, 2023, the European Day of Jewish Culture returns, now in its 24th edition.
The event that opens the doors of synagogues, museums and other Jewish sites to citizens, inviting people to learn more about Jews and Judaism, will take place this year in Italy and in 101 locations, spread across sixteen regions, from north to south to the islands.
The initiative, in which thirty European countries are participating, is coordinated and promoted in our country by the Union of Italian Jewish Communities. With an unprecedented theme, "Beauty," to act as a "common thread" among the hundreds of events that will be organized throughout the country. An opportunity to raise awareness and appreciation of the historical, architectural, artistic and Jewish archaeological heritage in Italy, and to reflect on the peculiar declinations of "beauty" from a Jewish point of view.
Italy's ancient and historic synagogues and many Jewish sites; Jewish thought, philosophy and Jewish tradition; music, art, literature, culinary specialties; and again, the State of Israel, which will be seen from the most diverse aspects. There are many variations on the theme this year, which visitors will be able to "touch with their own hands" by participating in the many appointments.
Starting with Florence, chosen for this edition (and not by chance) as the Lead City: home of the Renaissance and a symbol of beauty for centuries, the Tuscan capital will offer visitors apacked program of events, which will enliven the enchanting Moorish-style Synagogue and other places in the city.Precisely in the garden of the Florence Synagogue (Via Farini, 6) will be held the official opening and national event on Sunday, September 10, 2023 at 10:30 a.m., in the presence of national and local authorities.
The European Day of Jewish Culture is a well-established cultural event,which in our country, as supported by AEPJ, the European Association for the Preservation of Jewish heritage and the Day's "umbrella" organization, boasts the record for being the largest and most successful edition in Europe. Thanks to the virtuous and active cooperation between Jewish Communities, municipalities, local authorities and associations active in the area, and a historical and cultural heritage of certain interest, each year brings to life an event spread widely throughout much of the peninsula, welcoming tens of thousands of visitors.
More information are available at www.ucei.it/giornatadellacultura, where is possible to consult the programs, which are constantly being updated, through focuses on the theme of beauty, on Jewish history and culture and on Florence, and with contributions multimedia, from videos to photo galleries to "virtual tours."
Information and interesting facts about participating locations can also be found on social channels:
Facebook and Instagram. Also available to journalists is a Press Area from which to download releases, photos and other materials: UCEI
The 30 European countries participating are:
Austria, Belgium, Belarus, Bosnia and Herzegovina, Bulgaria, Croatia, Estonia, Finland, France,Georgia, Germany, Greece, Ireland, Italy, Lithuania, Luxembourg, Moldova, Norway, the Netherlands Netherlands, Poland, Portugal, United Kingdom, Czech Republic, Romania, Serbia, Slovakia,Spain, Sweden, Switzerland, Turkey In Europe, the Day is coordinated by AEPJ – The European Association for the Preservation and Promotion of Jewish Culture and Heritage. Individual country programs can be found at www.jewisheritage.org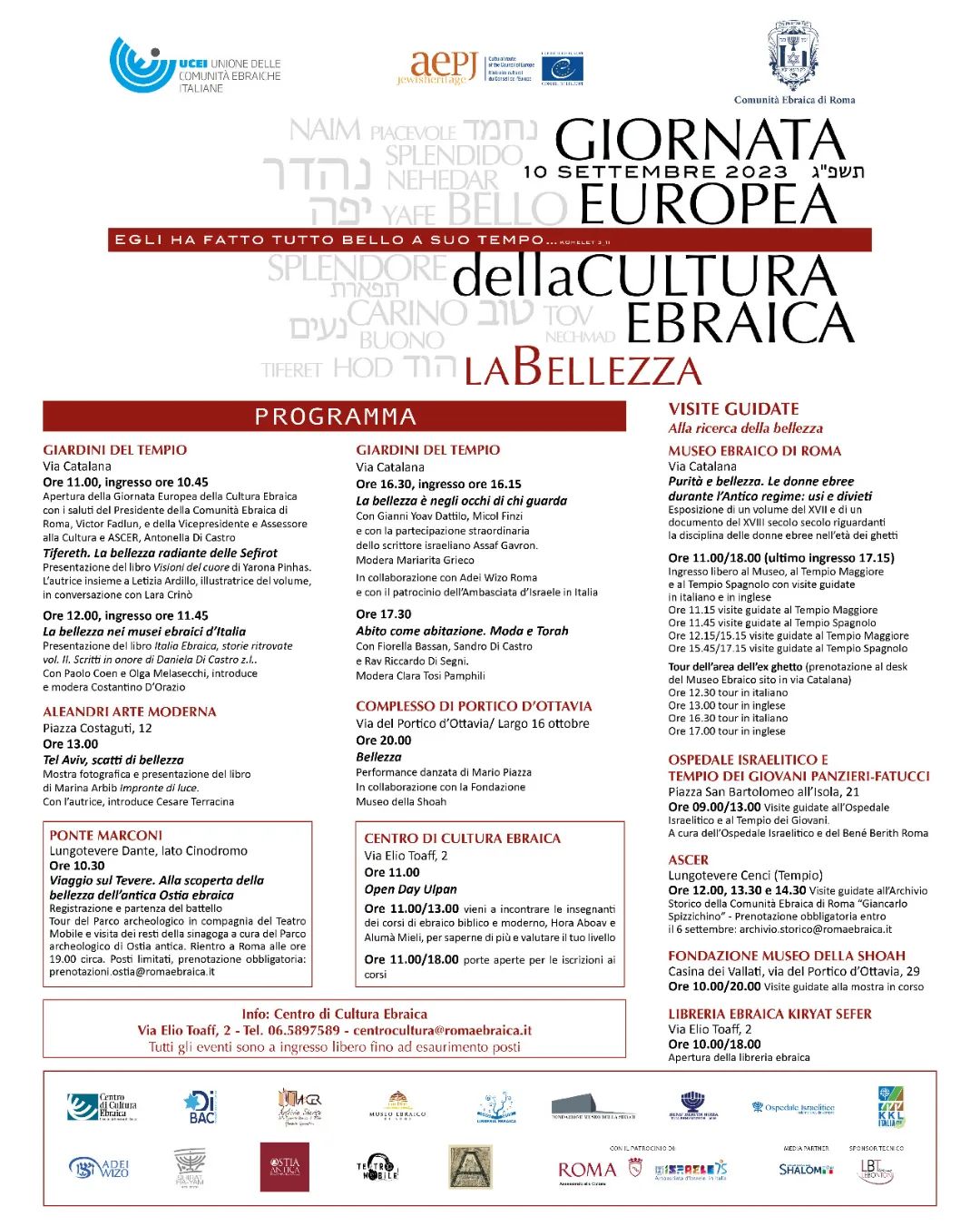 Source: Museo Ebraico di Roma