The Israel Defense Forces announces that troops of the 7th Armored Brigade and Golani Infantry Brigade have captured several Hamas governmental buildings in the Gaza City neighborhoods of Sheikh Ijlin and Rimal.
Among the sites captured by the troops are the Hamas parliament, its government complex, and the police headquarters.
It says troops captured the so-called governor's house in Gaza, which housed Hamas offices for its military wing and police, offices of Hamas's intelligence division, and other sites that were used to prepare for the October 7 onslaught.
The IDF says it also captured a Gazan university's engineering faculty building, which "served as an institute for the production and development of weapons," and another Hamas compound with a training base, command center, interrogation rooms, and detention cells.
Pictures leaked on social media earlier showed Golani soldiers inside the Gaza parliament building and military police headquarters.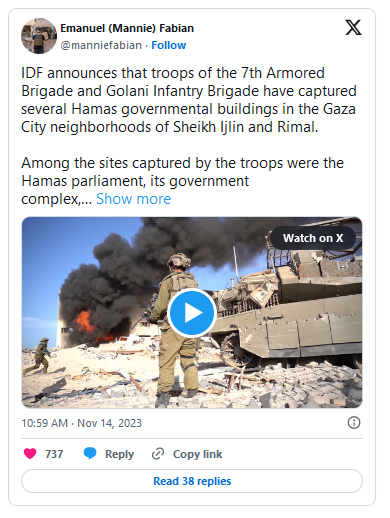 Source: The Times of Israel