Israeli Foreign Minister Eli Cohen at the Ministry of Foreign Affairs in Jerusalem, June 12, 2023. Photo by Yossi Aloni/Flash90.
Facing blowback, Israel's foreign minister on Tuesday clarified comments he made earlier in the day that seemed to imply Israel had only weeks before international pressure forced a ceasefire in its war against Hamas.
"The assessment: We have about two weeks before significant international pressure. The pressure is not very high, but it is increasing," said Cohen during a press conference.
"In the talks I hold, emphasis is placed on the [Palestinian] humanitarian issue. The part [relating to] identification and shock from the massacre of Oct. 7 is shrinking. There are also those who request, though not publicly, to work toward a ceasefire," he added.
However, after his remarks were interpreted, including by members of his own Likud Party, as suggesting that Israel would bow to such pressure, Cohen tweeted later on Tuesday, "As far as we are concerned, there is no hourglass—we will not stop fighting until we eliminate Hamas and return all the abductees!"
He attached a video from an undated interview in which he said that "even if international credit ends, we will continue with the two goals we set for ourselves: the elimination of Hamas and the return of all the hostages. We are fighting here for the security of all the residents in the south and the north.
"I explain to the world—this is not only our war but also yours because it will reach you, too," he said.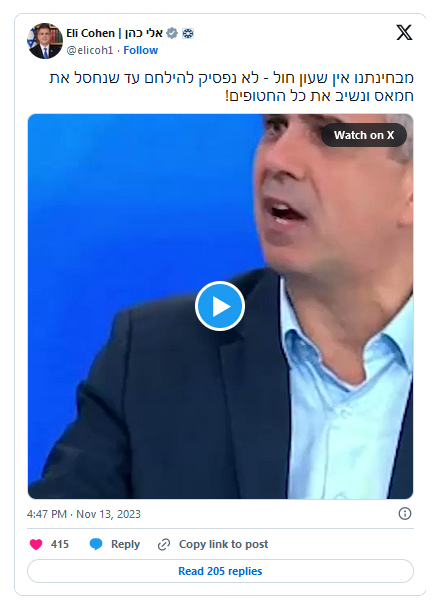 Cohen's clarification echoed comments made by Israeli Prime Minister Benjamin Netanyahu during a press conference on Sunday. "No international pressure, or reviling of IDF soldiers and our state, will change our faith in the justice of our cause and in our right and our obligation to defend ourselves," said Netanyahu.
Cohen had come under veiled criticism for his remarks from fellow Likud ministers, including Education Minister Yoav Kisch and Culture and Sports Minister Miki Zohar.
Zohar tweeted after Cohen's initial remarks, "With all due respect to political pressures, our commitment is first of all to the residents of the south and the citizens of Israel who paid a heavy and terrible price. We must win this war and return the abductees home. It will take as long as it takes."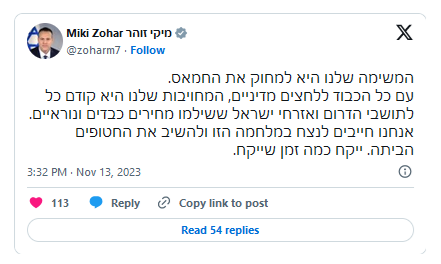 Cohen has emphasized the hostage issue in a series of meetings with world leaders. Hamas captured some 240 hostages, among them foreign nationals, during its attack on Oct. 7, according to the latest numbers.
On Tuesday, Cohen met with International Committee of the Red Cross President Mirjana Spoljaric in Geneva. Accompanying Cohen were Israeli Health Minister Uriel Buso and several Israelis whose family members are being held by Hamas.
The ministers demanded from the Red Cross president that her organization act immediately to visit the hostages, according to a ministry statement.
Foreign Minister Eli Cohen (3rd from left) with families of abductees visiting the International Red Cross in Geneva, Nov. 14, 2023. Credit: Red Cross.
The Red Cross president tweeted following the meeting, "Today I met families of hostages and Israel's foreign and health ministers. The families' pain is simply heart-wrenching. The hostages must immediately be released. @ICRC will not stop working to gain access to them: and we need agreements to be reached that allow us to work."
Cohen also met in Geneva with Tedros Adhanom Ghebreyesus, director general of the World Health Organization (WHO).
Cohen described Hamas's use of hospitals for its terror activities as "a resounding failure" of the WHO and other U.N. organizations.
"Under the noses of these organizations, the largest terrorist infrastructure in the world was established," he said, adding that Hamas commits a "double war crime" by shooting missiles and rockets at Israeli population centers from the vicinity of hospitals.
Cohen said he expected U.N. organizations like the WHO to acknowledge, as had the European Union, that Hamas uses hospitals and Gaza's civilian population as human shields.
He also told a press conference that U.N. Secretary-General António Guterres "does not deserve to lead the United Nations," adding, " Guterres did not promote any peace process in the region."
Guterres came under criticism from Israel last month for seemingly justifying the Hamas attack. "It is important to also recognize the attacks by Hamas did not happen in a vacuum," he told the U.N. Security Council on Oct. 24, asserting that "the Palestinian people have been subjected to 56 years of suffocating occupation."
While Israeli spokespeople have pointed out that Hamas uses civilians as human shields with the specific aim of using their deaths as a weapon against Israel, many Western media outlets and world leaders have continued to put the onus on Israel for the death of non-combatants.
Netanyahu himself warned in an Oct. 30 press conference to foreign media, "As long as Hamas's use of Palestinian human shields result in the international community blaming Israel, Hamas will continue to use it as a tool of terror, and so will others."
Asked by JNS how Israel proposes to more successfully counter the blame-Israel narrative, Prime Minister's Office Spokesman Eylon Levy said Israel holds Hamas "accountable for all civilian casualties inside the Gaza Strip," due to its decision to wage war from "densely populated areas and from inside and under people's homes, schools, hospitals and other civilian facilities."
He reiterated that "all tragic civilian casualties inside the Gaza Strip remain the sole and exclusive responsibility of the terror organization."
Source: JNS