Arabs wave flags and chant anti-Israel slogans at the Al-Aqsa mosque on the Temple Mount in Jerusalem on the last Friday of Ramadan, April 29, 2022. Photo by Jamal Awad/Flash90.
An Israeli embassy official was attacked on Friday in Beijing as Hamas called for a day of global "mobilization" against the Jewish people.
The attack did not occur inside the embassy compound, and the diplomat was in stable condition after being evacuated to the hospital, according to the Israeli Foreign Ministry.
A motive for the attack was being probed.
Hamas has called for a "Friday of the Al-Aqsa Flood" on Oct. 13, with the terror organization seeking reinforcements from "our Palestinian people, the masses of the Arab and Islamic world, and free people worldwide" in its "declaration of mobilization."
The Qatar-based Khaled Mashal, who led Hamas from 2014 to 2017, called for Muslims to "take to the streets" on Friday in a day of global protest against Israel. "To all scholars who teach jihad," he said, "to all who teach and learn, this is a moment for the application [of jihad]."
Overnight on Thursday, Israel urged more than 1 million Palestinians to evacuate the northern Gaza Strip, ahead of an anticipated ground offensive to destroy Hamas's terror capabilities.
IDF Spokesman Rear Adm. Daniel Hagari told reporters that the evacuation order was meant to limit Palestinian civilian casualties, as the war against Hamas entered its seventh day.
"We are fighting a terror group, not the Gazan population. We don't want to harm civilians, but we cannot live with Hamas-ISIS rule near our border," said Hagari on Friday morning.
"Hamas carried out one of the most horrific acts the world has ever seen, we are conducting an effort to evacuate residents to increase our freedom of movement to deepen the damage [to Hamas], to destroy it," he added.
Hagari said that the military was still focusing its efforts on killing senior Hamas leaders, adding that the vast majority of the estimated 2,500 terrorists who perpetrated the Oct. 7 cross-border raid and massacre of 1,300 Israelis were already dead.
On Friday, U.S. Defense Secretary Lloyd Austin landed in Israel for meetings with his counterpart, Israeli Defense Minister Yoav Gallant, and Israeli Prime Minister Benjamin Netanyahu, among other top officials.
Austin said the visit was in part meant to show America's "ironclad" support for and commitment to standing side by side with Israel.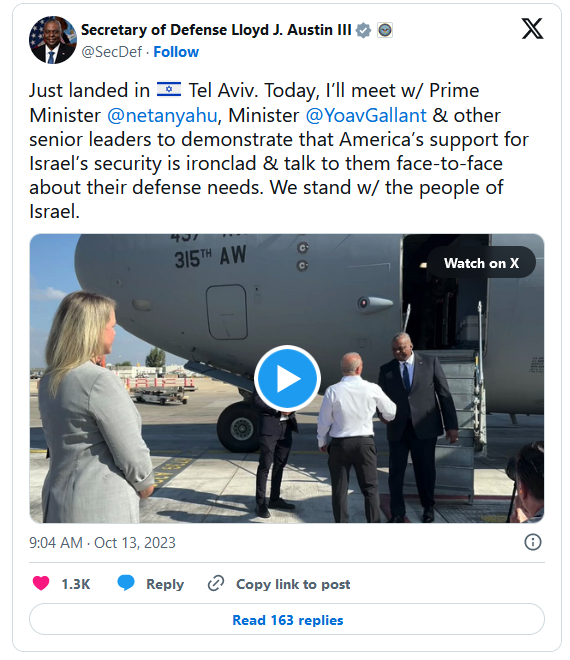 Source: JNS