By Akiva Van Koningsveld
Israeli Foreign Minister Eli Cohen blasted U.N. Secretary-General António Guterres on Tuesday for remarks in which he appeared to justify Hamas's Oct. 7 murder rampage in the western Negev.
"It is important to also recognize the attacks by Hamas did not happen in a vacuum," Guterres had told the U.N. Security Council on Tuesday, claiming that "the Palestinian people have been subjected to 56 years of suffocating occupation.
"They have seen their land steadily devoured by settlements and plagued by violence; their economy stifled; their people displaced; and their homes demolished. Their hopes for a political solution to their plight have been vanishing," added the Portuguese diplomat.
Hamas terrorists killed at least 1,400 Israelis and wounded more than 4,500 in a massive offensive launched from Gaza on Oct. 7, which included the firing of thousands of rockets at Israel and the infiltration of the Jewish state by terrorist forces.
"Mr. Secretary-General, in what world do you live?" Cohen rebutted as he addressed the Security Council. "Definitely, this is not our world."
Cohen canceled a private meeting with Guterres, he subsequently announced on X (formerly Twitter). "I will not meet the U.N. secretary-general. After Oct. 7, there is no place for a balanced approach. Hamas must be erased from the world," wrote the top diplomat.
Israeli Ambassador to the United Nations Gilad Erdan also denounced the secretary-general's speech, noting in a post on X that Guterres spoke as Hamas bombarded central Israel with rockets.
"The shocking speech by the U.N. secretary-general at the Security Council meeting … proved conclusively, beyond any doubt, that the secretary-general is completely disconnected from the reality in our region and that he views the massacre committed by Nazi Hamas terrorists in a distorted and immoral manner," said Erdan.
"His statement that 'the attacks by Hamas did not happen in a vacuum,' expressed an understanding for terrorism and murder. It's really unfathomable. It's truly sad that the head of an organization that arose after the Holocaust holds such horrible views," the ambassador said.
Erdan urged Guterres to resign "immediately," while sharing a post that called on the Jewish state to "rethink its relationship" with the international organization.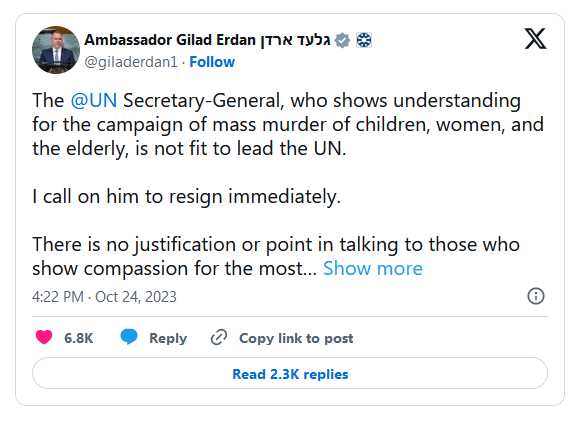 'Legitimizing and justifying the gruesome massacre'
Israel's Channel 12 reported on Tuesday night that Erdan refused a visa request from U.N. Under-Secretary-General for Humanitarian Affairs Martin Griffiths, who had planned to visit the region.
Erdan will recommend additional retaliatory measures to be taken by Jerusalem, the report claimed, including the deportation of U.N. officials in the country.
Israeli Minister-without-Portfolio Benny Gantz said "terror apologists cannot speak on behalf of the world."
"Days when the U.N. secretary-general supports terrorism are dark days for the world. Absolutely nothing can justify the slaughter of innocent civilians. Now is the time to stand on the right side of history, or be judged by it," Gantz wrote on X.
"By saying this, he [Guterres] is wrongfully legitimizing and justifying the gruesome massacre of men, women, children and babies, and the savage kidnapping of over 222 innocent babies, children and civilians who are still being held by Hamas," charged Danny Danon, a member of the Israeli Knesset and former Israeli ambassador to the U.N.
"The U.N. secretary-general should be ashamed of himself. I call upon him to retract his abhorrent statement or step down now and resign from his position," Danon said, according to a statement from his office.
"You have lost any last shred of dignity and moral clarity. You have brought disgrace upon the institution you're leading," said Knesset Speaker Amir Ohana in an X post.
Ohana called on Guterres to "apologize to the Israeli victims and families who experienced a modern Holocaust" on Oct. 7. "They are still being targeted by the Hamas killing machine as you spew your vile antisemitic speech," added the lawmaker.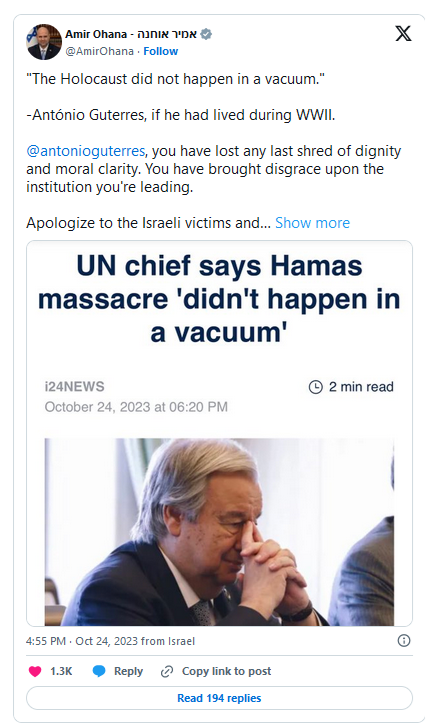 Source: JNS