On October 7, Hamas terrorists were not the only ones who documented the war crimes they had committed during their deadly rampage across southern Israel. Some of their atrocities were captured by Gaza-based photojournalists working for the Associated Press and Reuters news agencies whose early morning presence at the breached border area raises serious ethical questions.
What were they doing there so early on what would ordinarily have been a quiet Saturday morning? Was it coordinated with Hamas? Did the respectable wire services, which published their photos, approve of their presence inside enemy territory, together with the terrorist infiltrators? Did the photojournalists who freelance for other media, like CNN and The New York Times, notify these outlets? Judging from the pictures of lynching, kidnapping and storming of an Israeli kibbutz, it seems like the border has been breached not only physically, but also journalistically.
AP: Photojournalists or Infiltrators?
Four names appear on AP's photo credits from the Israel-Gaza border area on October 7: Hassan Eslaiah, Yousef Masoud, Ali Mahmud, and Hatem Ali.
Eslaiah, a freelancer who also works for CNN, crossed into Israel, took photos of a burning Israeli tank, and then captured infiltrators entering Kibbutz Kfar Azza.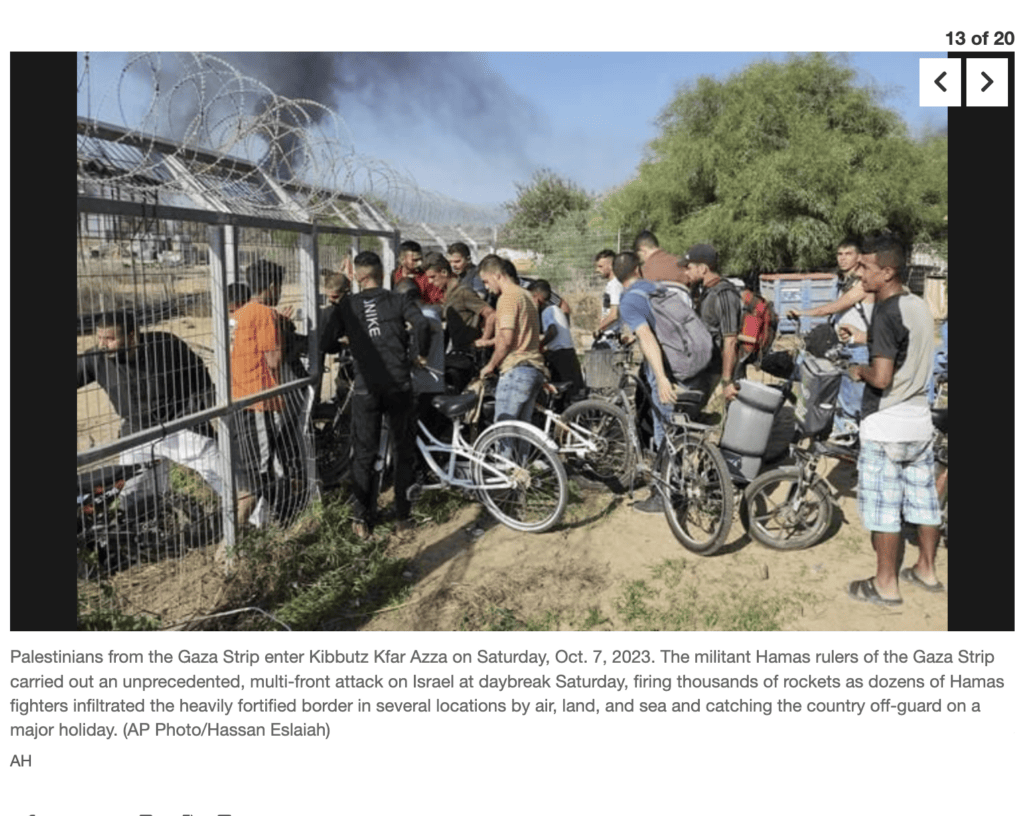 HonestReporting has obtained screenshots of Eslaiah's now-removed tweets on X in which he documented himself standing in front of the Israeli tank. He did not wear a press vest or a helmet, and the Arabic caption of his tweet read: "Live from inside the Gaza Strip settlements."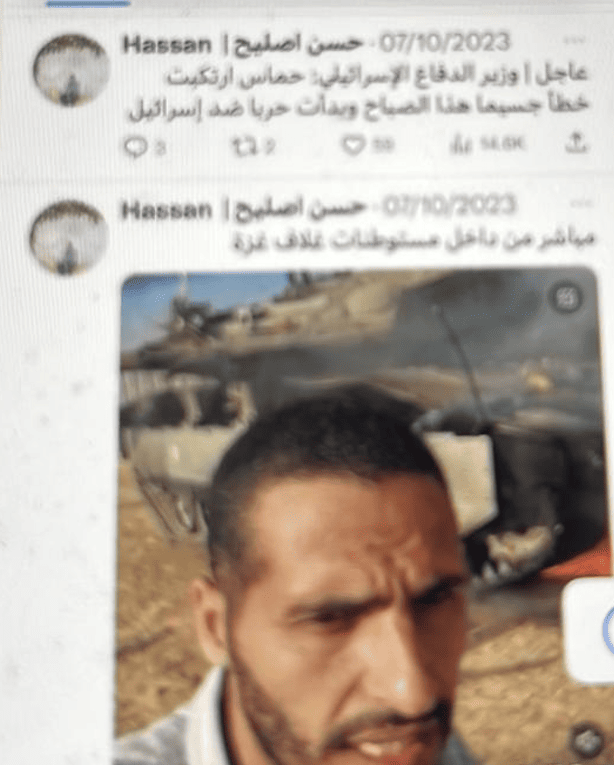 UPDATE: Shortly after the publication of this article, we were alerted to footage of Hassan Eslaiah next to the Israeli tank. In addition, a photo has surfaced showing Eslaiah with Hamas leader and mastermind of the October 7 massacre, Yahya Sinwar.


In the above video, Eslaiah says in Arabic: "Everyone who were inside this tank were kidnapped, everyone who were inside the tank were kidnapped a short while ago by al-Qassam Brigades [Hamas' armed wing], as we have seen with our own eyes."
More photos he took in Kfar Azza show Hamas terrorists trying to breach the Kibbutz's fence and a burning house inside the community: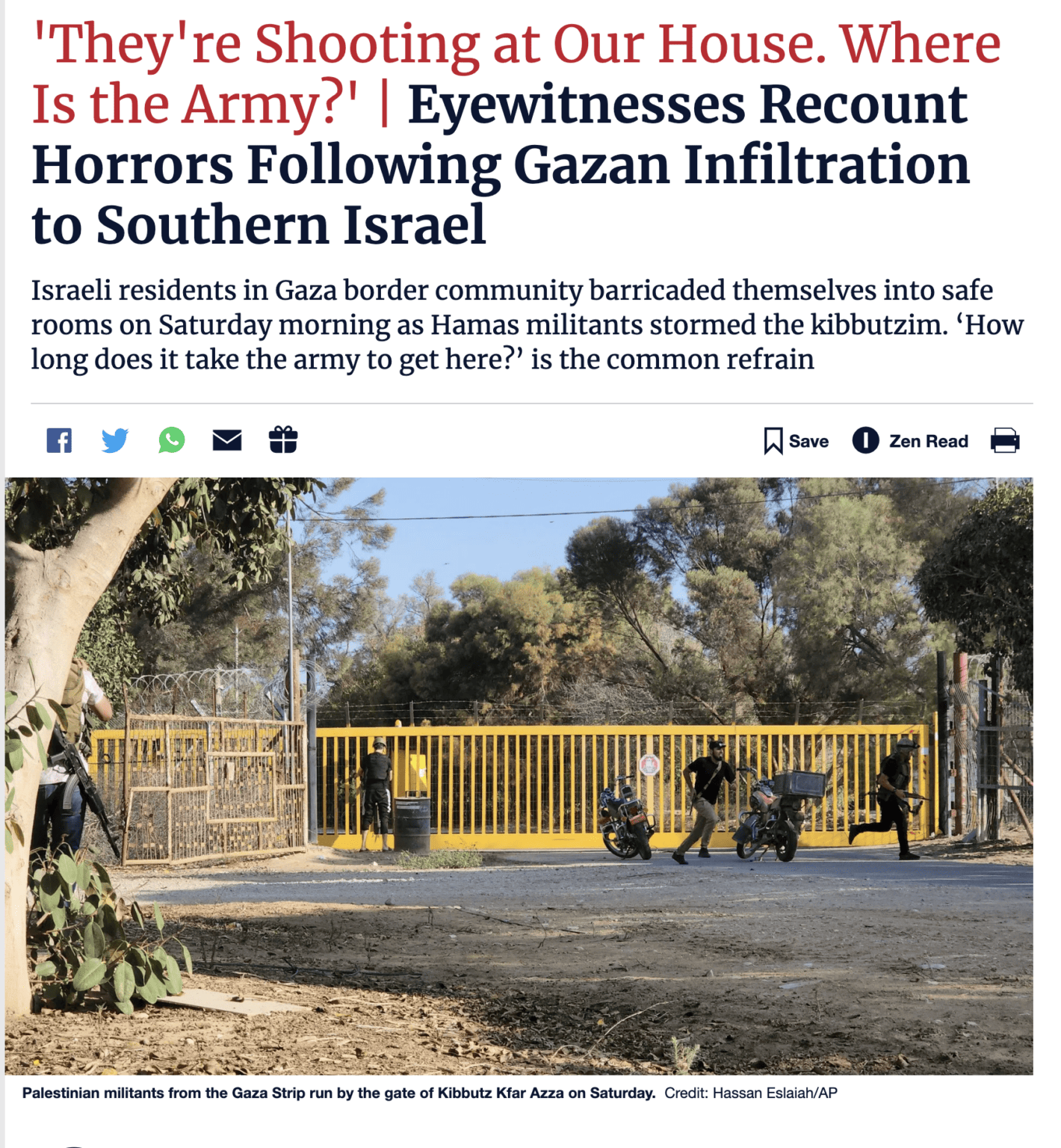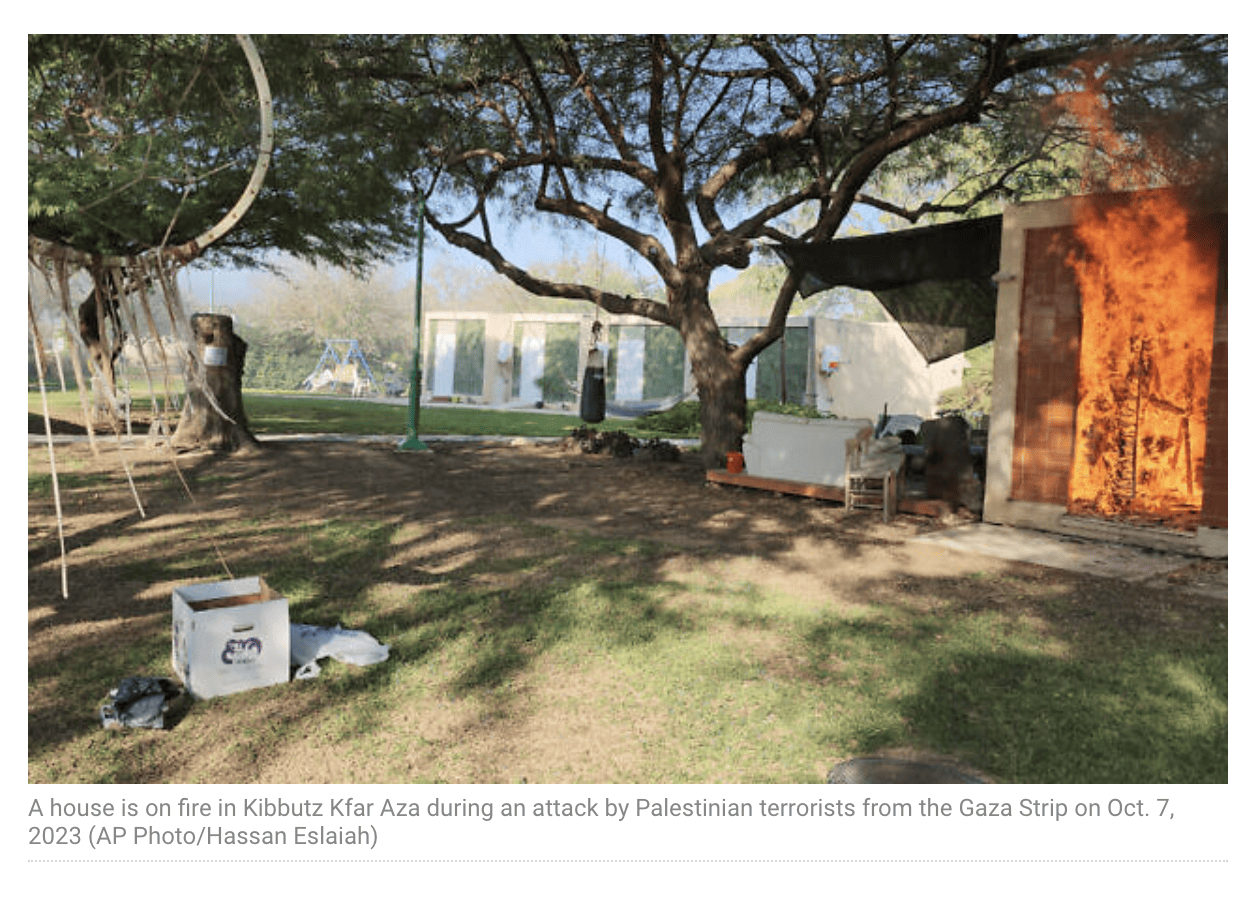 Masoud, who also works for The New York Times, was there as well —  just in time to set foot in Israeli territory and take more tank pictures.
Ali Mahmud and Hatem Ali were positioned to get pictures of the horrific abductions of Israelis into Gaza.
Mahmud captured the pickup truck carrying the body of German-Israeli Shani Louk and Ali got several shots of abductees being kidnapped into the Strip.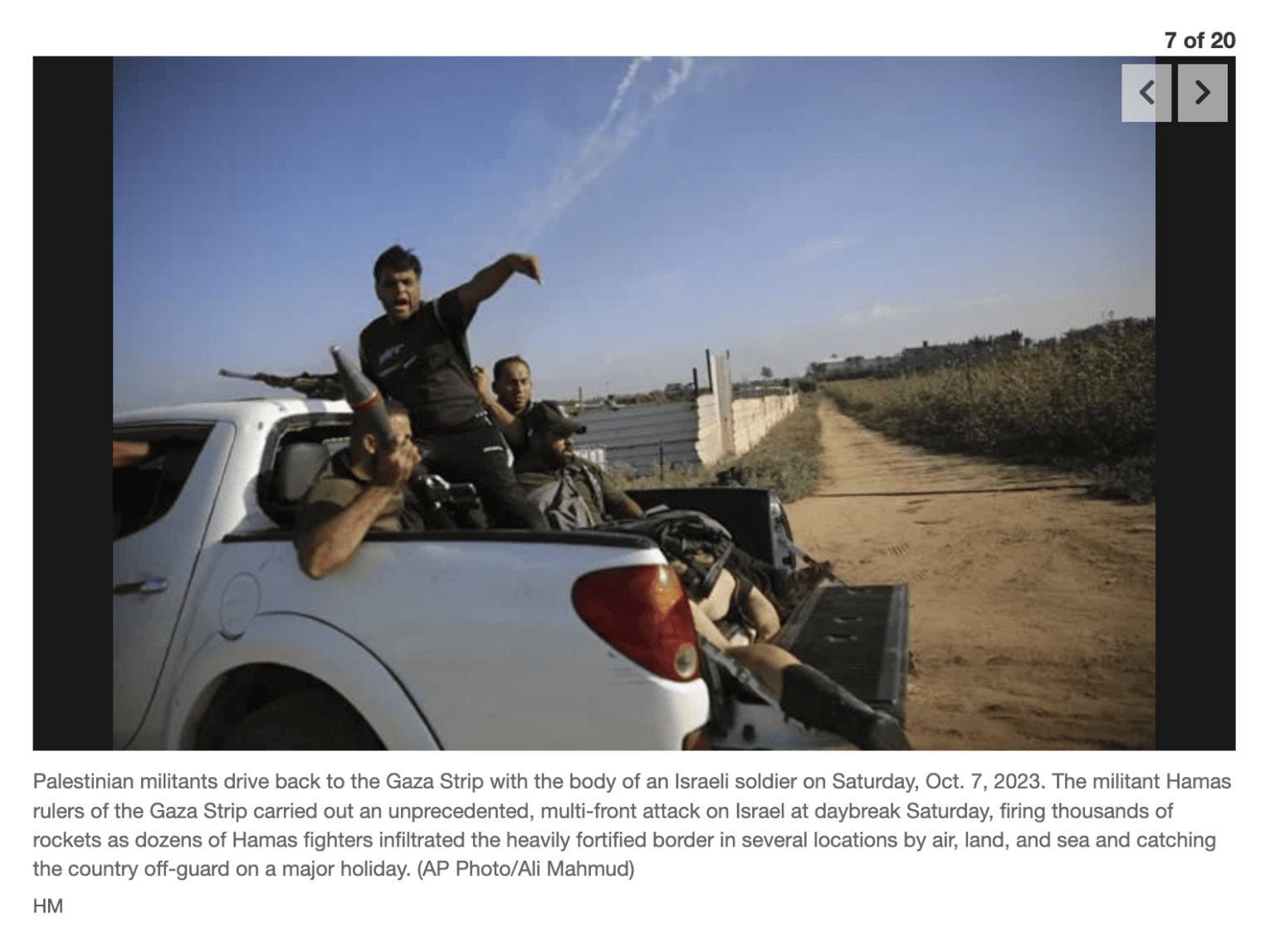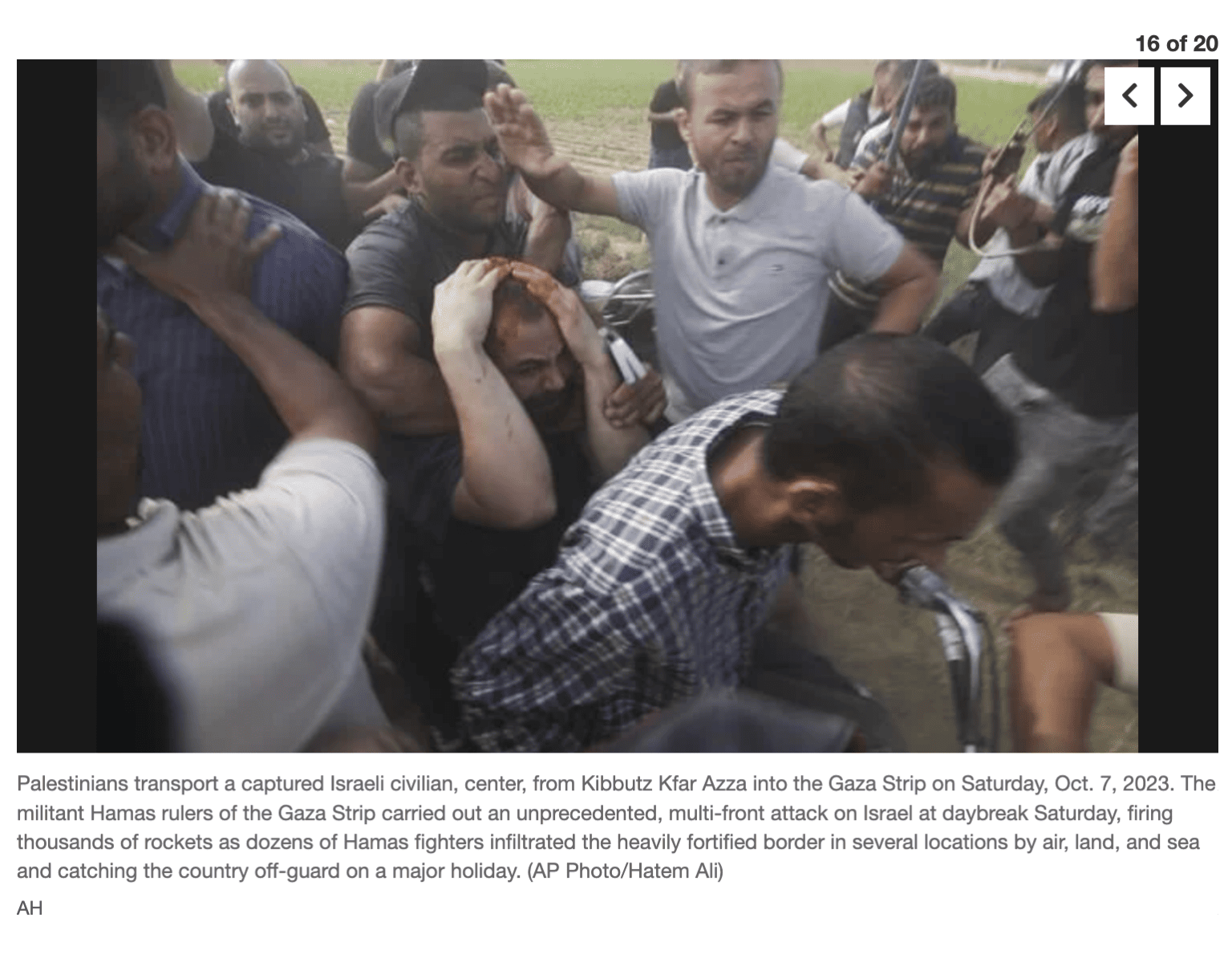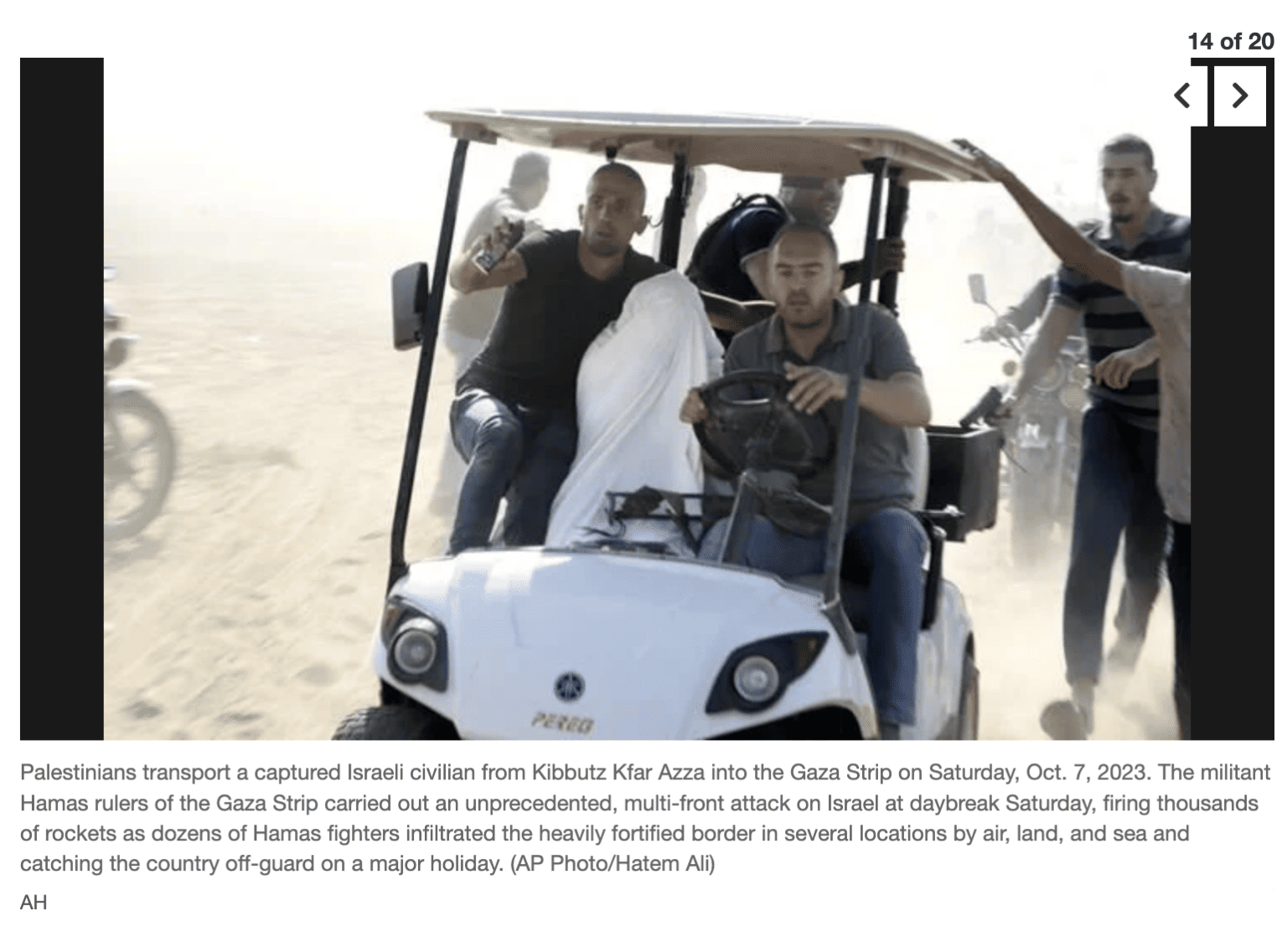 Interestingly, the names of the photographers, which appear on other sources, have been removed from some of the photos on AP's database. Perhaps someone at the agency realized it posed serious questions regarding their journalistic ethics.
Reuters: Lynching as "Image of the Day"
Reuters has published pictures from two photojournalists who also happened to be at the border just in time for Hamas' infiltration: Mohammed Fayq Abu Mostafa and Yasser Qudih.
They both took pictures of a burning Israeli tank on the Israeli side of the border, but Abu Mustafa went further: He took photos of a lynch mob brutalizing the body of an Israeli soldier who was dragged out of the tank.
Reuters was kind enough to add a graphic warning to the photo caption, but it didn't prevent editors from shamelessly labeling it as one of the "Images of the Day" on their editorial database.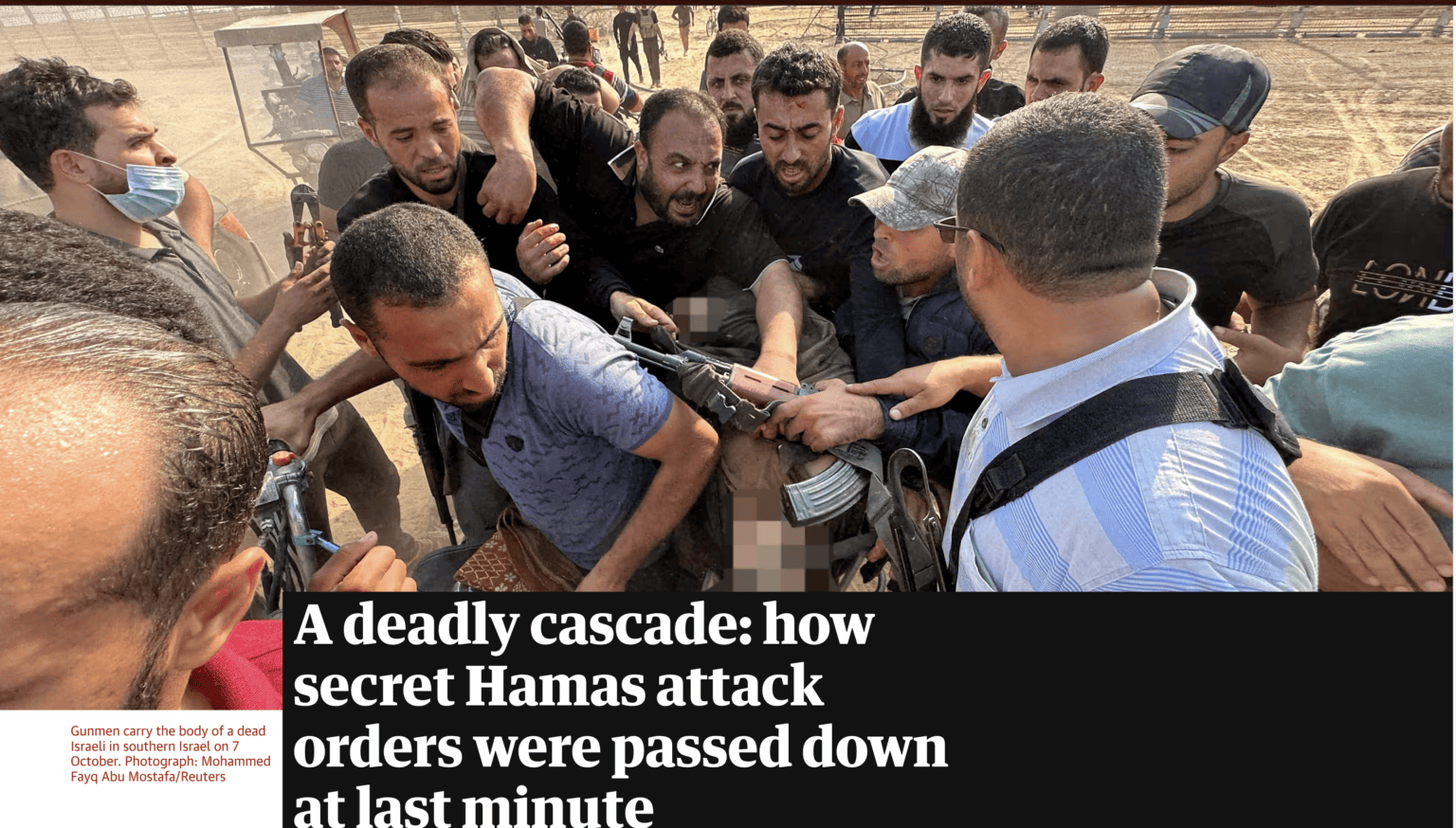 Let's be clear: News agencies may claim that these people were just doing their job. Documenting war crimes, unfortunately, may be part of it. But it's not that simple.
It is now obvious that Hamas had planned its October 7 attack on Israel for a very long time: its scale, its brutal aims and its massive documentation have been prepared for months, if not years. Everything was taken into account — the deployments, the timing, as well as the use of bodycams and mobile phone videos for sharing the atrocities.
Is it conceivable to assume that "journalists" just happened to appear early in the morning at the border without prior coordination with the terrorists? Or were they part of the plan?
Even if they didn't know the exact details of what was going to happen, once it unfolded did they not realize they were breaching a border? And if so, did they notify the news agencies? Some sort of communication was undoubtedly necessary — before, after or during the attack —  in order to get the photos published.
* * *
REACTIONS UPDATE: After publication of this article, a spokeswoman for the Associated Press quoted by the Daily Wire denied any advance knowledge of the attack, although HonestReporting did not make such accusation. "The Associated Press had no knowledge of the Oct. 7 attacks before they happened," said Nicole Meir. "The role of the AP is to gather information on breaking news events around the world, wherever they happen, even when those events are horrific and cause mass casualties. AP uses images taken by freelancers around the world, including in Gaza."
According to Ynet News, CNN has decided to suspend ties with Eslaiah despite not finding "any reason to doubt the journalistic accuracy of the work he has done for us."
A day after the publication, Reuters has issued a statement to which HonestReporting replied as follows: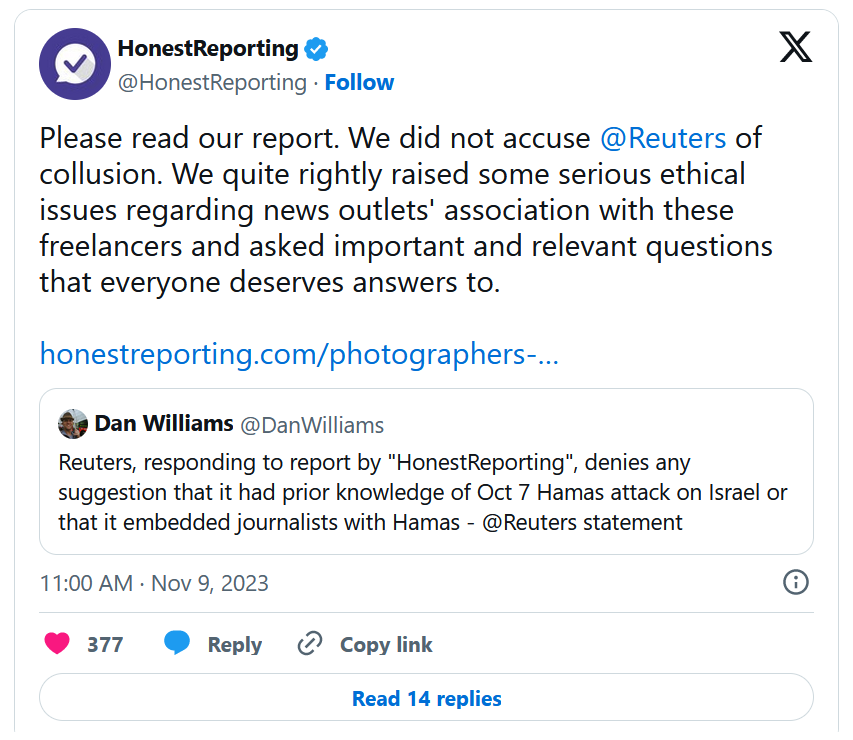 The New York Times has yet to respond to media requests for comment.
Israel's Public Diplomacy Directorate at the Prime Minister's office issued a statement saying it viewed with "severity" the phenomenon of journalists covering Hamas' atrocities, labeling them as "accomplices to crimes against humanity." The statement added that the Israeli Government Press office has sent an official complaint demanding explanations and "immediate action" from the relevant media outlets.
The Jerusalem Journalists Association has called on the relevant international media outlets to launch a thorough inquiry into questions arising from this exposure.
* * *
Either way, when international news agencies decide to pay for material that has been captured under such problematic circumstances, their standards may be questioned and their audience deserves to know about it. And if their people on the ground actively or passively collaborated with Hamas to get the shots, they should be called out to redefine the border between journalism and barbarism.
Found this article informative? Follow the HonestReporting page on Facebook to read more articles debunking news bias and smears, as well as others explaining Israel's history, politics, and international affairs. Click here to learn more!
Photo Credits: Abed Rahim Khatib via Flash90, Structuresxx via Shutterstock
Source: Honestreporting.com