The staff of the Oporto Holocaust Museum, which between April 5 and December 15, 2021, received around 40,000 visitors, mainly young people, considered the visits by representatives of the Embassy of the United States of America and the Portuguese Minister of State, Dr. Augusto Santos Silva, the most significant.

The Minister was impressed by the youth of the about 300 people queuing to visit the museum and insisted that the public be allowed to visit the museum normally during his own visit. Accompanied by the Director of the Museum, Dr. Rothwell, whose grandparents died in Auschwitz, the Minister demonstrated a profound knowledge of the fundamental points related to the Shoah, its causes, the ghettos, the different types of camps, the war in all its diverse stages, the invasion of the Soviet Union, Portugal's role in welcoming refugees, the final solution, the death marches, the liberation of the camps, and the righteous among nations. Even the sources of the photographs and videos shown in the museum were often known to Minister Santos Silva, which attests to the importance of Portugal's presence at the IHRA and the aims of the Nunca Esquecer (Never Forget) project.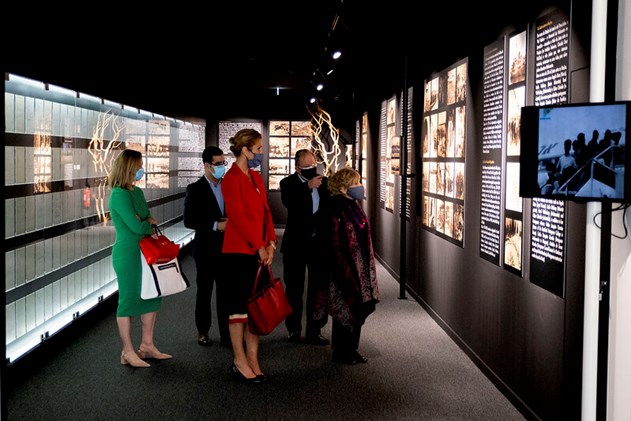 Source: US Embassy Lisbon Portugal

Regarding the visit of the highest representatives of the American Embassy, the U.S. was represented by Ms. Kristin M. Kane, the Chargée D'affairs, and Ms. Danielle Korshak, the Embassy's Political Officer,  who were received and accompanied throughout the visit by long-standing member of the Oporto Jewish Community, Mrs. Marilyn Flitterman, who at 92 is also its oldest member and an American.

Mrs. Flitterman showed the Holocaust Museum, step by step, to her fellow countrywomen, in the company of its director and curator.

In 2022, the Holocaust Museum of Porto will display two temporary exhibitions given by the USHMM and which have already toured several cities. The first "Some Were Neighbors: Choice, Human Behavior, and The Holocaust" examines the role of ordinary people during the Holocaust. The second exhibition called "State of Deception: The Power of Nazi Propaganda", and created in partnership with The Holocaust and the United Nations Outreach Program, examines how the Nazis used propaganda to win broad voter support in Germany's democracy after World War I, implement radical programs under the party's dictatorship in the 1930s, and justify war and mass murder. Both exhibitions contain a strong educational component aimed at younger people.

The new US Ambassador, Ms. Randi Charno Levine is expected to be at the museum very soon. She has been a member of advisory and governing boards for several museums and other cultural institutions and her husband, Jeffrey Levine, is the former president of the Jewish National Fund – USA.